Qatar Leadership Academy (QLA) has signed a memorandum of understanding (MoU) with Bedaya Centre for Entrepreneurship and Career Development to strengthen and promote career guidance services in Qatar.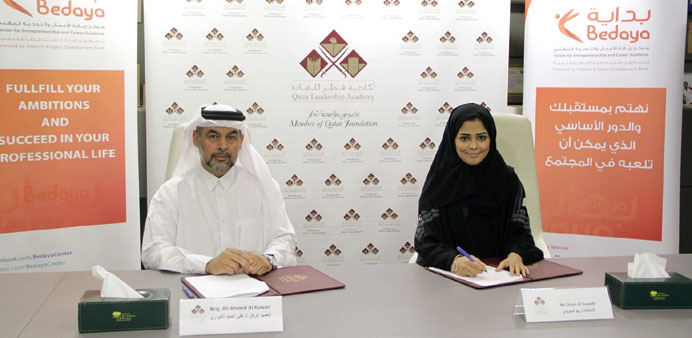 Under the MoU, QLA will facilitate advisory sessions with the young people who use Bedaya's career guidance tools and encourage QLA's students to participate in Bedaya's programmes and events. QLA will also include the centre in its forthcoming events.
Bedaya Centre will provide career guidance tools to QLA cadets in grade 10 and grade 11 and offer a number of job shadowing opportunities for students who wish to explore a work environment.
Further, Bedaya will deliver entrepreneurship and innovation workshops and advisory sessions and enable participation in Bedaya Entrepreneurship programmes such as the annual Enterprise Challenge.
The MoU is for one academic year - 2015/2016 - and may be renewed if mutually agreed by both parties.