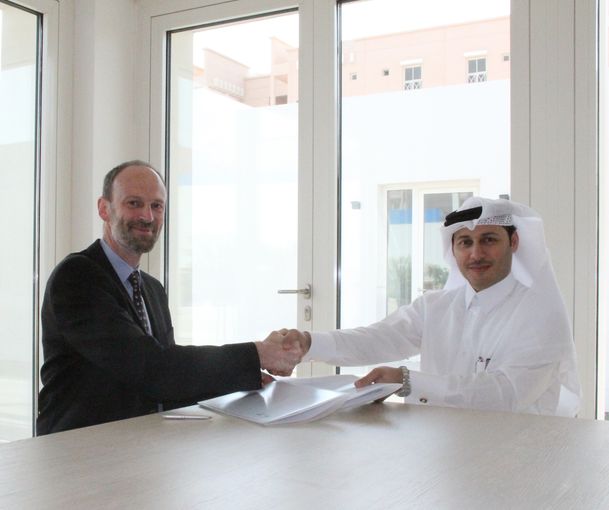 Qatar Green Building Council (QGBC) and Solar-Institut Jülich (SIJ) have signed a Memorandum of Understanding (MoU) to work together on a ground-breaking environmentally sustainable housing project.
The two parties pledged to ensure that the highest standards of precision and accuracy are applied when recording valuable scientific energy and water data for the Qatar Case Study Passivhaus, Baytna Project. The research will be used in long-term efforts to help reduce Qatar's carbon footprint.
The housing project in Qatar, led by QGBC, involves two fully insulated and airtight villas which will be monitored for energy use efficiency and sustainability.
Dr Alex Amato, QGBC Head of Sustainability, said: "As part of the key deliverables outlined in the MoU, SIJ will support QGBC with the initial configuration and operation of the metering and monitoring systems located in the state-of-the-art villas. SIJ will also provide QGBC with comprehensive electronic documentation of the monitoring system and further assist in data evaluation by undertaking dynamic building simulations using QGBC's energy model."
This environmentally-sustainable housing project, now led by QGBC, promises to deliver an ultra-low operational energy regime, due to the building's super-insulated and airtight envelope. This greatly reduces the need for space cooling, reducing energy consumption and subsequent carbon dioxide emissions.
If these principles are applied extensively to the new and existing building stock, then Qatar's carbon footprint can be significantly reduced.
Commenting on SIJ's role, Dr Joachim Göttsche, Head of the Energy Efficiency Department at Solar-Institut Jülich said: "As part of our role, we will be responsible for monitoring the systems of the two villas efficiently and ensuring the operations are accurate. This will allow our team to prepare an analysis that will demonstrate energy consumption, air quality and thermal comfort."
It is also envisaged that the Qatar Environment and Energy Research Institute (QEERI) will take part in the research phase of the Qatar Case Study Passivhaus Project, which will initially focus on analyzing the energy efficiency aspect of the villas.
For the full story, please
click here
.