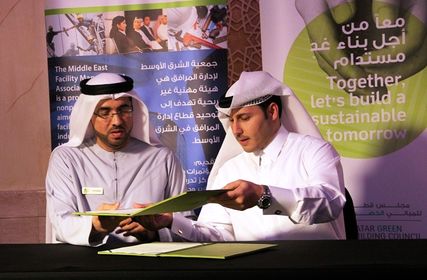 A new initiative has been launched in Qatar to promote, educate and empower facilities management experts in the area of sustainable practices. The Facilities Management Interest Group, set up by the Qatar Green Building Council (QGBC) and the Middle East Facility Management Association (MEFMA), has been created as a platform for professionals to meet, discuss and share best practices.
The Facilities Management Interest Group was officially launched on Tuesday 11 December at the Intercontinental Doha with the signing of a Memorandum of Understanding by QGBC and MEFMA. The new group has a clear agenda and will drive change via practical and innovative initiatives that are both affordable and sustainable. The group will also determine whether regulatory changes are needed for the facilities management industry in Qatar.
The group is QGBC and MEFMA's first joint initiative, and marks the start of a commitment to develop outreach activities on sustainability and to promote educational activities to advance the level of their members within the industry and wider community.
QGBC Director Engineer Meshal Al Shamari expressed his enthusiasm at the collaboration with MEFMA. "QGBC's main goal is to raise awareness and understanding of sustainability and green buildings throughout Qatar," he said. "We will achieve this, by establishing close ties with organisations already in the sustainability industry.We are delighted to collaborate with MEFMA in order to maximise the utilisation of our joint resources, expertise and industry networks.
Education, training and promotion of sustainable facilities management will form the basis for our future joint programs in Qatar and beyond."
The Facilities Management Interest Group will also be acting as a focus group for a dedicated research project that QGBC, in partnership with Texas A&M University at Qatar, is undertaking with the aim of 'developing a standard for high performance buildings in Qatar'.
The first phase of the project is the examination of various buildings to determine the gap between actual energy performance and design expectations. Project members will then interview facilities management directors and operators in order to identify their contribution as one component in the total energy performance of buildings.
This event was sponsored by the Maintenance Management Group (MMG) Qatar, a facility management provider operating across the Middle East.
For the full story, please
click here.