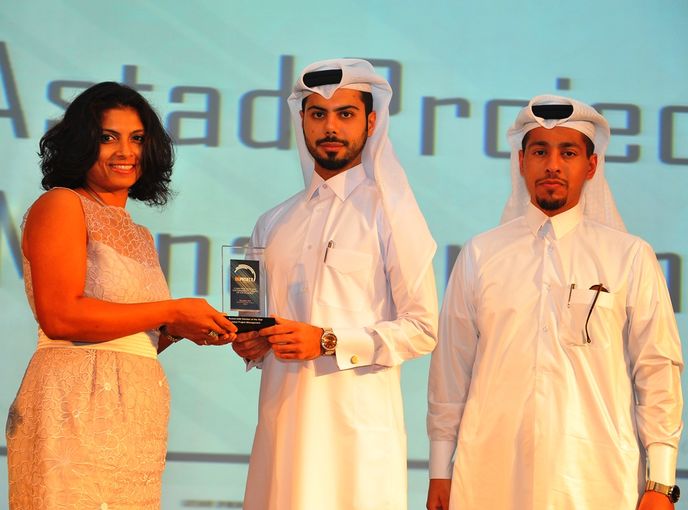 Qatar Foundation for Education, Science and Community Development has won this year's prestigious Big Project Middle East's Construction and Sustainability Award of Excellence in the Sustainable Solution of the Year category, for its sustainable Male and Female Student Housing complex.
This award recognizes development and supply of sustainable solutions to projects incorporating passive and/or active design strategies.
The award, the third accolade to be bestowed on the Student Housing development, was presented to Hamad Al Rumaihi, Infrastructure Director and Ibrahim Al Haidos, MEP engineer at an exclusive ceremony held at the Jumeirah Emirates Towers in Dubai last week.
Having recently been presented with the Emerging Markets in the Residential (Built) award at Cityscape and honoured by the US Green Building Council, Engineer Jassim Telefat, Group Executive Director of Qatar Foundation Capital Projects and Facilities Management, expressed his delight at yet another triumph for the project.
"It is a great honour to be awarded yet again for the sustainable housing project. Such distinctions acknowledge the steadfast commitment and teamwork we have put into realising this development," said Engineer Telefat. "This award is a testament to Qatar Foundation's dedication to Qatar's progressive goal of integrating green building practices wherever possible, and the student housing development stands as a symbol of environmental consciousness, not only for today's youth but for generations to come."
The Big Project Middle East's Construction and Sustainability Awards of Excellence is organised by the Big Project Magazine, the Middle East's leading monthly B2B construction industry publication. It recognises regional leaders in the fields of architecture, engineering, design and consultancy and the Sustainable Solution of the Year acknowledges the delivery of sustainable solutions to clients incorporating active design strategies.
The Male and Female Student Housing project, located within the Qatar Foundation campus in Doha, was developed by Qatar Foundation and designed by Burns & McDonnell, in partnership with architectural firm, Treanor Architects, green building consultants Vertegy and ASTAD Project Management. It is currently the only platinum LEED certified student housing complex in the world, earning 12 Platinum LEED certifications in the category of 'New Construction' from the US Green Building Council which also makes it the largest collection of platinum LEED certified buildings in one area in the world
The development comprises two individual male and female complexes with a permeating Islamic motif. Each complex, spanning 36,000 square metres, boasts five residential buildings and a community centre. State-of-the art sustainable technology and energy-efficient systems are used throughout the entire complex.
To assist the students in tracking their green footprint, each housing unit contains a monitoring system that tracks an individual's water and energy consumption. The distinguished complex is also equipped with a solar-panelled roof and wind turbines that generate energy at gusts of 10 kilometres or more and considered as clean power sources.