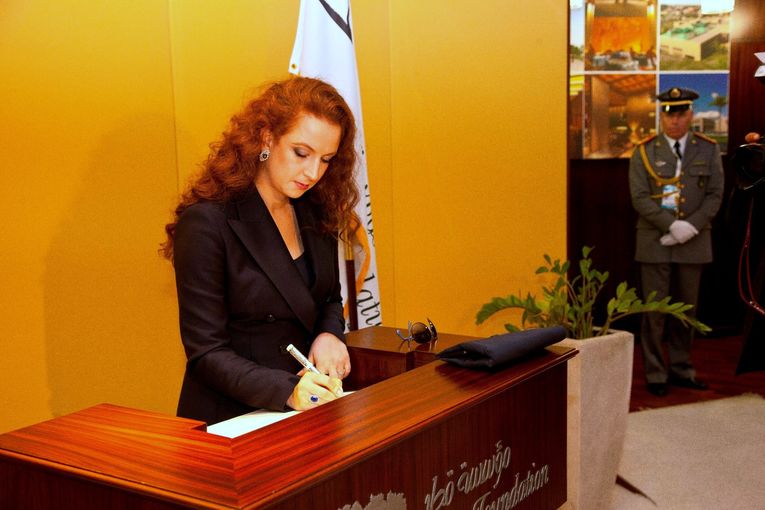 Qatar Foundation for Education, Science and Community Development hosted Her Royal Highness Princess Lalla Salma of Morocco. A welcoming committee led by Engineer Saad Al Muhannadi, President of Qatar Foundation, received the wife of the King of Morocco Mohammed VI, at the Qatar Foundation Visitors Center.
Princess Lalla Salma is in Qatar to participate in the World Innovation Summit for Health (WISH), which was inaugurated today by Her Highness Sheikha Moza bint Nasser, Chairperson of Qatar Foundation. WISH supports the aims and ambitions of Qatar Foundation and reinforces Qatar's role as an emerging centre for medical innovation.
The Princess and her delegation were shown a presentation that outlined the vision and mission of Qatar Foundation. They were also introduced to Qatar Foundation's many educational initiatives, community development plans, and scientific research programs.
Princess Lalla Salma is actively engaged in healthcare initiatives and is president of the 'Lalla Salma Foundation – Prevention and Treatment of Cancers' in Morocco. The organization, which was founded in 2005, employs innovative approaches in the fight against cancer. The Foundation encourages scientific research and it has advanced its mission by raising public awareness and access to treatment for people living with cancer. The organization also seeks to significantly improve early diagnosis and strengthen partnerships in Morocco and internationally.
Similarly, Qatar has been at the forefront of healthcare reform in the region with its introduction of a visionary national health strategy. As part of its mission, Qatar Foundation has launched a number of initiatives in healthcare – from scientific research in medicine to maternal health and clinical care.
Dr Rachid Bekkali, Executive Director of the Lalla Salma Foundation for the Prevention and Treatment of Cancers said, "The health and well-being of individuals creates a balance and is a reflection of a healthy society. This is the reason why every member of the community should do their best to look after their health and to prevent the onset of any diseases. It has become increasingly important to prevent chronic illnesses, such as diabetes and cardiovascular diseases. Therefore, we should encourage innovation in healthcare, since this is extremely important to all the Arab countries."
Dr Bekkali added, "We hope that this visit will be fruitful and provide us with an opportunity to foster several collaborations in the field of medical research with Qatar Foundation's scientific and research centres, among them Sidra Medical and Research Center, with which we have established good relations."
Sidra Medical and Research Center, a member of Qatar Foundation, is a groundbreaking hospital, research and educational institution, which is setting new standards in patient care for women and children in Qatar, the Gulf region and internationally. It encompasses three essential missions: world-class patient care, medical education and biomedical research.
The Princess and her delegation were also briefed on Qatar Foundation's various sustainability initiatives and climate action solutions. After the presentation, they were shown an impressive 3D scale model of the current buildings and construction projects underway at Qatar Foundation.
As the visit drew to a close, Princess Lalla Salma signed the visitor's book and was presented with a commemorative gift from Qatar Foundation. Her trip to Doha aims to promote close collaboration in the fields of health and innovative research.