Qatar Foundation (QF) will mark the academic accomplishments of the class of 2015 at a convocation ceremony on Tuesday 5 May, 2015.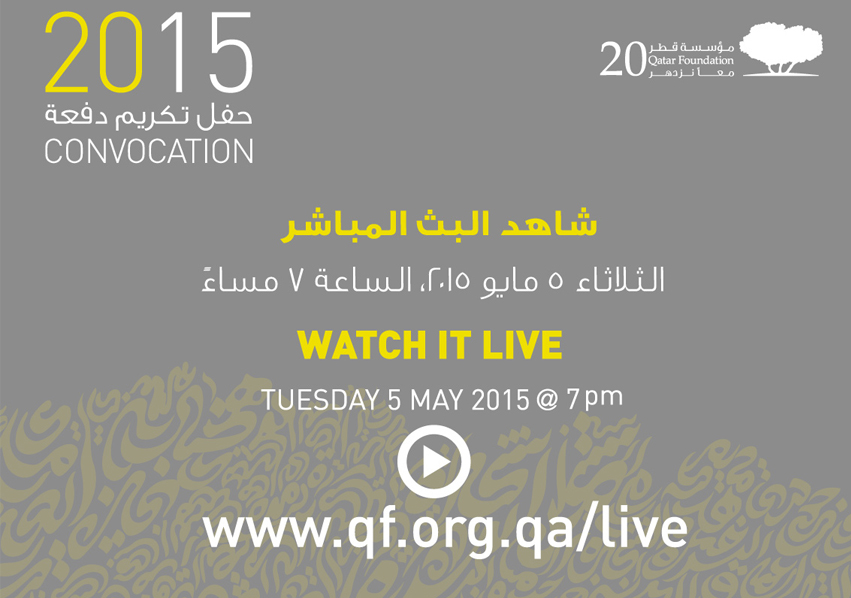 This year's event takes on particular significance as it coincides with QF's celebration of its 20th anniversary. QF celebrated the first joint convocation of its partner universities in 2008.
A record number of graduates, 672 in total – up 22 percent from last year – will attend the celebrations at Qatar National Convention Centre, which will honor graduates from Hamad Bin Khalifa University and QF's eight partner universities located within Education City.
The graduates will hold Bachelor and Master degrees in various specializations that are geared towards the Qatari youth in fields that are crucial to the country's future economic development and growth, as well as tailored to address the grand challenges facing Qatar.
Commenting on this year's convocation, Engineer Saad Al Muhannadi, President of Qatar Foundation, said: "This is a momentous day in the history of Qatar Foundation and the State of Qatar. I am truly glad to see this number of graduates who will lead the nation's march towards the future. Your hard work and dedication is contributing to QF's dynamic cycle ofeducation and research, starting as young as six-months right through to higher education programs. After 20 years, Qatar Foundation and the State of Qatar can be proud of the high graduation rate with an ever increasing number of well-educated doctors, engineers and other specialists, who will play their role in supporting the Qatari job market and help advance Qatar towards fulfilling its National Vision 2030 with their outstanding skills."
During this year's convocation, QF will honor 122 graduates from Hamad Bin Khalifa University (HBKU), which represents the largest percentage of graduates from the different universities in Education City. This figure includes 80 graduates from Qatar Faculty of Islamic Studies (QFIS), which provides Master's Degrees in the various fields of Islamic studies, and 14 graduates from the Translation and Interpretation Institute (TII), which provides high-quality programs in the field of translation, interpretation and foreign languages.
The convocation will honor the first batch of graduates from the Executive Master's program in Energy and Resources at HBKU, which consists of 28 students who successfully finished their studies in this multidisciplinary field, offered in partnership with Georgetown University, Texas A&M University at Qatar and HEC Paris.
The entire convocation ceremony will be broadcast live on Qatar TV from 7:00pm and can also be followed on QF Radio on 91.7 FM).
For the full story, please
click here
.