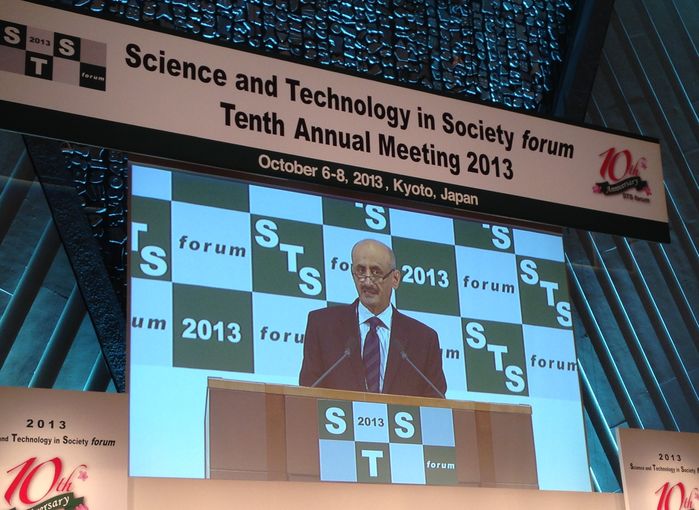 Faisal M. Alsuwaidi, President of Research and Development at Qatar Foundation, joined prominent academics and researchers to discuss the future of sustainability at the Science and Technology in Society (STS) forum in Kyoto, Japan.
The tenth annual STS forum, held at the Kyoto International Conference Centre from 6-8 October, aims to create a global network while providing an open framework for discussions related to the progress of science and technology, and the ethical predicaments it can create for the future of humankind.
During a plenary session entitled 'How do we move forward to maintain sustainability for the future of humankind?' Mr Alsuwaidi underlined Qatar Foundation's ongoing efforts to provide a sustainable future for younger generations and explained the Foundation's role in supporting the nation on its journey from a carbon-based economy to a knowledge-based economy.
He said, "Ultimately, Qatar's cumulative research and development efforts are aimed at enhancing the well-being of its people while making a worldwide impact. In order to maintain sustainable development for humankind, strategic choices must be made that facilitate the pursuit of education and research, so that truly innovative scientific and technological developments can be achieved."
Mr Alsuwaidi also introduced attendees to several of Qatar Foundation's impressive R&D initiatives and highlighted the importance of local, regional, and international collaborations among leading research organizations and their scientists.
"As part of its national endeavors, Qatar has set aside 2.8 percent of its government revenue for science and development," said Mr Alsuwaidi.
"The Research and Development division at Qatar Foundation is eager to pursue a strategy of economic and environmental sustainability by collaborating with other organizations in order to form a network of centers that can effectively deal with the challenges that Qatar and the rest of the world are facing."
For the full story, please
click here
.