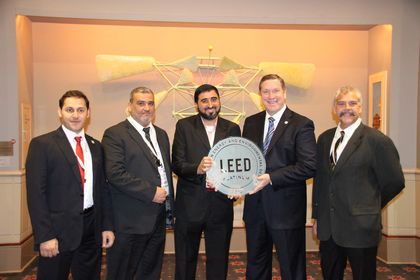 In less than a decade Qatar Foundation has emerged as a regional leader in the green building movement.
As a testament to Qatar's firm commitment to environmental development, Engineer Jassim Telefat, Group Executive Director of Qatar Foundation Capital Projects and Facilities Management, was invited to share his expertise at the Greenbuild 2013 International Conference and Expo held in Philadelphia, USA.
With over 30,000 attendees, Greenbuild is one of the world's largest international green building conferences.
At the conference, Rick Fedrizzi, President and Chief Executive Officer of the US Green Building Council, took the opportunity to commend Qatar Foundation for its highly sustainable Male and Female Student Housing project.
The unique student complex received special recognition and praise for earning 12 Platinum LEED certifications in the category of 'New Construction' from the US Green Building Council, which means Qatar Foundation now houses the highest concentration of independently registered platinum LEED buildings of this type in the world.
"One of the impressive features that the Foundation plans to implement is an integrated public transportation system that is based on light rail and an innovative 'e-bike' circuit. The light rail, or 'people-mover system', will incorporate high-end technology that has never been used commercially before," Telefat said.
"The system is fully electric, incorporating rail cars that will recharge when entering stations, before continuing on their journey. Once the system is complete in 2015, employees and students can leave their cars in large car parks on the perimeter and use the people-mover system to travel between buildings in Education City."
According to Eng. Telefat, a key objective is educating the community about the importance of sustainability and striving towards a greener lifestyle.
Eng. Telefat explained, "We prioritize human development by exposing all our youth to sustainable practices. Through the creation of environmentally-friendly student housing and a green campus, we aim to engage and nurture a community that values the environment. We have installed a monitoring system in each housing unit to help students track their own energy and water consumption. This project serves as a valuable tool for students, as it educates them about sustainability and encourages accountability."
For the full story, please
click here
.