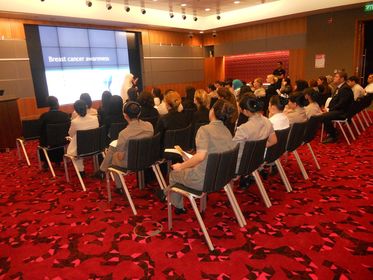 As part of its 'Pink Ribbon Breast Cancer Awareness Campaign,' Qatar Foundation's Health, Safety, Security and Environment Directorate (HSSE) held an event in mid November to highlight the critical importance of early detection and diagnosis.
The campaign started in early November and will continue throughout the month.
During the event participants were given an opportunity to attend presentations and learn about the inspirational journey of breast cancer survivors.
According to Dr Lamya Bani-Murad, Health Manager at Qatar Foundation's HSSE Directorate, statistics from 2010 to 2011 illustrate a 17 percent increase in the incidence of breast cancer in Qatar.
Dr Bani-Murad also praised the efforts of health care clinics and hospitals, including Hamad Medical Corporation, which provides a free breast cancer screening program for all women aged 40 years and over.
Dr Mahassen Sayed Hassan Okasha, Head of Health Education at the Qatar Cancer Society encouraged women to take a proactive and positive approach to staying healthy.
Breast cancer is the most common cancer among women worldwide, and it is estimated that one in eight will develop the disease during their lifetime.
Dr Okasha stresses that although relatively rare and more widespread among women, breast cancer in males can and does occur.
"For every 100 women, there is one man diagnosed with breast cancer. It is important to refute the incorrect notion that the disease only occurs in women," she warned.
For the full story, please
click here
.