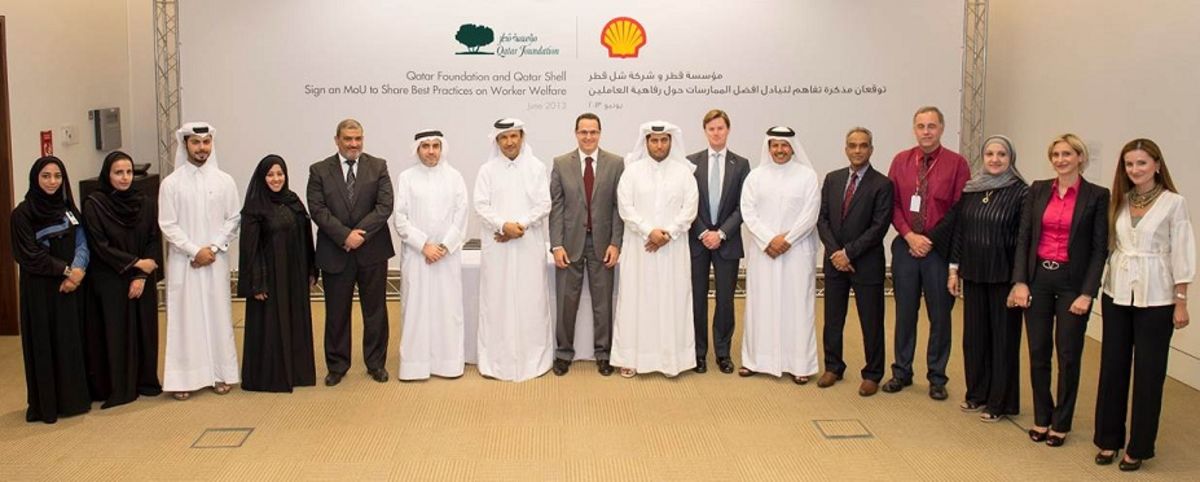 With the aim of enhancing the safety and well-being of all migrant workers, Qatar Shell and Qatar Foundation for Education, Science and Community Development joined forces on 2 June, 2013 to help ensure the effective application of workers' welfare standards in Qatar.
Eng. Saad Al Muhannadi, Vice President of Capital Projects and Facilities Management at Qatar Foundation said, "We consistently strive to enhance the quality of life for workers on Qatar Foundation construction projects, and we believe that dignified living and working conditions are absolutely essential to unlocking human potential."
He added, "Qatar Shell's experience has shown that proper management of workers' welfare produces measurable results in terms of increased productivity and decreased fatality rates. I look forward to seeing the results of our efforts combined with Shell's unmatched expertise to raise the quality of life for our workers."
Qatar Shell, which has successfully completed construction of the Pearl GTL Plant with its partner Qatar Petroleum (QP), will also impart the key lessons that it has learned from managing and upholding the interests of some 52,000 workers.
In April, 2013 Qatar Foundation launched an
initiative
designed to improve employment practices and enhance its migrant workers' quality of life. Qatar Foundation also signed the Migrant Workers Welfare Charter in October and recently established a Workers' Welfare Department, which is designed to carefully screen all service providers and partners based on their compliance with its ethical rules and requirements.
For the full story, please click here.