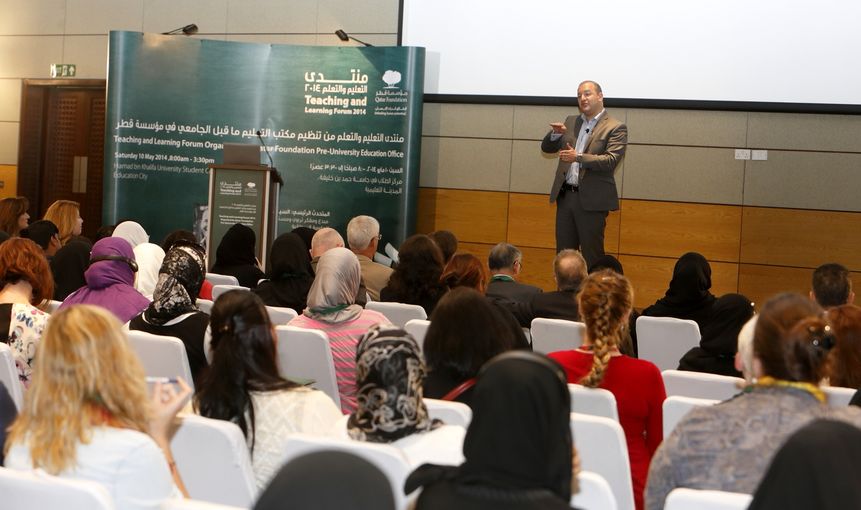 The Qatar Foundation (QF) Office of Pre-University Education held its inaugural 'Teaching and Learning Forum' for QF, Supreme Education Council and international school teachers at the Hamad bin Khalifa University Student Center at Qatar Foundation's campus recently.
The one-day forum saw educators at Qatar Foundation deliver three sets of 10 workshops that explored the following themes: leadership, early childhood education, innovation and practice, and the use of student data in learning methodologies.
Commenting on the importance of this event Sheikha Noof Ahmed bin Saif Al-Thani, Director of the Academic Outreach Pre-University Education Office, said: "The 'Teaching and Learning Forum was a wonderful opportunity for Qatar's teaching community to gather, share and discuss their innovative ideas with regards to the teaching of specific subjects.
"Teaching, like learning, is a lifelong endeavor and the rapid technological and social advances of the 21st Century demand that teachers remain creative in their methodologies. At Qatar Foundation, we believe this is the key to unlocking the human potential of future generations."
The Teaching and Learning Forum also hosted a keynote speech by Richard Gerver, an award-winning teacher and school principal, whose groundbreaking work in education has been celebrated by the British National Teaching awards and the United Nations Educational Scientific and Cultural Organisation.
Addressing the future of education while referencing conversations he has had with Eric Schmidt, the Executive Chairman of Google, and Stephen 'Steve' Wozniak, Co-founder of Apple, Gerver said: "What we have to understand about the nature of change, not just in education, is that it is not about systems and structures, but about people. If you don't change the capacity of people, all you ever lead to are short term measures that will live and die in moments and actually transform nothing."
For the full story, please
click here
.