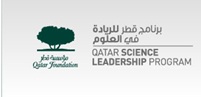 Three talented Qatar Science Leadership Program (QSLP) trainees have shown commitment to the pursuit of scientific progress by excelling in their postgraduate studies at two prestigious UK universities – Imperial College London and the University of Leicester.
Introduced by Qatar Foundation in 2008, QSLP has become one of the country's greatest resources for producing a high level scientific cadre to support the country's national research agenda. The program has already helped many promising researchers to pursue careers in a variety of highly specialized scientific fields, including stem cell research, biomedicine, environmental sustainability and biostatistics.
The unique initiative helps nationals build rewarding careers with guaranteed placements at Qatar Foundation and its world-class centers. From undergraduate to postdoctoral studies, QSLP offers a full spectrum of opportunities to carve out a meaningful vocation. The program focuses on the country's core research areas of health and biomedicine, energy and environment, computing and information technology, behavioral and social sciences, and humanities.
Ali Mohammed, 25, is currently enrolled in QSLP's Research Scientist Track and recently completed his Master of Science in Biomedical Engineering with distinction from Imperial College London. Being an exceptional researcher, the young Qatari has earned a place in Imperial's doctorate programme and will commence a PhD in Biomedical Engineering and Material Sciences this month.
Ali's ultimate goal is to teach at university, consult for medical companies affiliated with Qatar and its hospitals, as well as lead research at the Qatar Biomedical Research Institute. He also hopes to encourage other young people to take an interest in science as a means of sustaining the health and security of a nation.
Isra Yousef Marei, 27, is another overachiever in QSLP's Research Scientist Track. The bright Jordanian has also received a commendable distinction in her degree from Imperial College London, with a Master of Research in Biomedical Research – Respiratory and Cardiovascular Science.
Isra decided to focus her research efforts on cardiovascular disease because its prevalence in Qatar and the Middle East has increased, and she believes finding solutions is necessary to minimise the number of deaths. She plans to continue her education with a doctoral degree in the tissue engineering of heart valves at Imperial College London, and has a long-term objective of working with the team at Qatar Cardiovascular Research Center.
Amira Aljabiry, 27, says it has always been her dream to become a scientist. The determined Qatari student is well on her way to achieving this lifelong objective having earned a Master of Science in Cancer Chemistry with distinction from the University of Leicester in the UK.
"My research area was in cancer studies, particularly in drug discoveries. The degree has helped increase my understanding of cancer and how we can target the disease in order to treat it. Cancer is the third leading cause of death in Qatar and I believe more cancer research is absolutely vital, so for this reason I chose to study this field," says Amira.
For the full story, please
click here
.