Qatar Foundation (QF) is set to celebrate National Sport Day on Tuesday, 10 February with a special walkathon through Education City.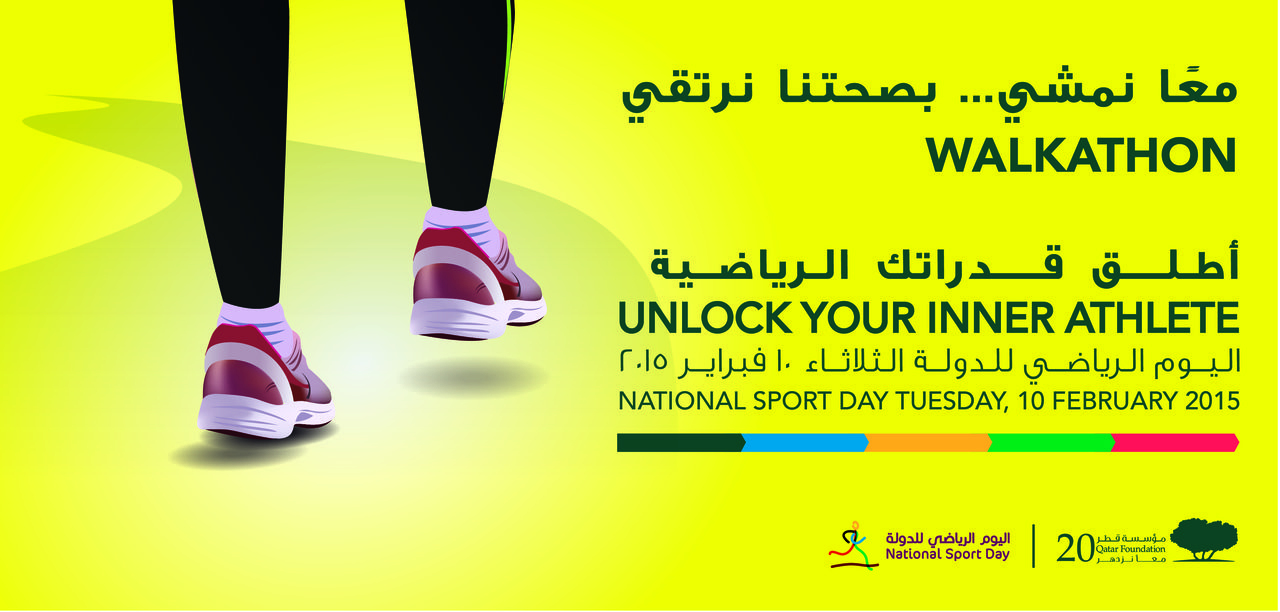 Under the theme of 'Unlock Your Inner Athlete', each stage of the walkathon will include educational activities to inspire men, women and children to lead healthier and more active lifestyles.
Since the launch of the first National Sport Day in 2012 by His Highness the Amir Sheikh Tamim bin Hamad Al Thani, QF has strived to host an exciting range of sports activities to celebrate the day. Specially designed to help shape a healthy, sports-loving society by equipping people with the necessary skills and inspiration to make positive, long-lasting lifestyle changes, QF is also supporting the Qatar National Vision 2030 (QNV2030).
The events have been hand-picked to help demonstrate how even the smallest of changes can make a positive, long-lasting impact on health and, by raising awareness of the importance of health and fitness, QF is demonstrating its on-going dedication to the community and creating a better future for all and utilizing all of its infrastructure and centers for the benefit of the community.
Engineer Saad Al Muhannadi, President of Qatar Foundation, said about the significance of the annual holiday: "National Sport Day is a tangible demonstration of Qatar's visionary commitment to its people's long-term health."
"QF looks forward to the 'Unlock Your Inner Athlete' theme inspiring community members to get fit and to adopt healthy lifestyles for a number of reasons. Not only can it drastically improve the quality of life, but it can prevent illnesses. Over the last twenty years, Qatar Foundation has been working hard to advance these areas of healthcare through its centers of science and research that are dedicated to furthering the Qatar National Vision 2030."
The walkathon will give members of the community the opportunity to explore Qatar Foundation, while learning more about health and sports activities.With the start line at AL SHAQAB, attendees will get the chance to observe and learn about its world-class horses and events, all of which are part of QF's mission to enhance cultural life and preserve the country's traditions.
Catering for people with different interests and hobbies, other activities during the day will include a variety of sports, and live demonstrations in taekwondo and gymnastics at the Recreation Centre, and a range of fun cricket activities at the cricket ground.
In the lead-up to the day, QF will be running an exciting social media competition on Instagram. The quiz will encourage people across the country to test their wellbeing knowledge, and it will also serve as an opportunity to educate followers on the different sports and healthcare opportunities available at QF. The winner will be announced on Tuesday morning.
For additional information on the day's activities, or to pre-register for any of the activities, please visit
http://www.qf.org.qa/NSD
.
For the full story, please
click here
.