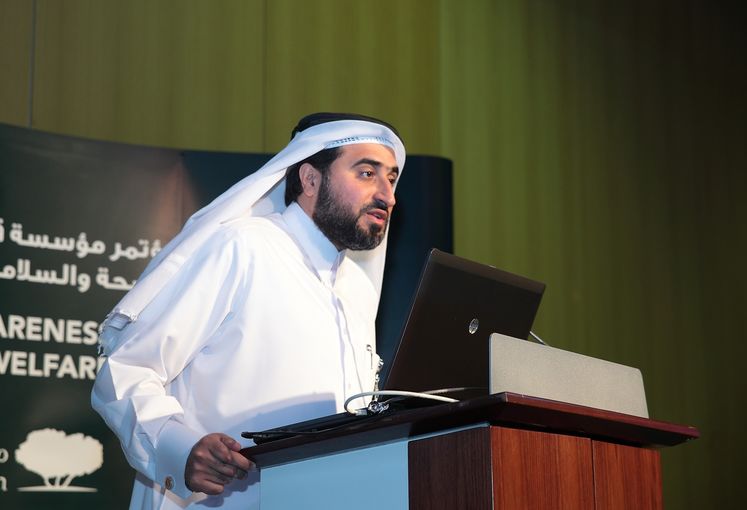 Qatar (QF) organized a conference at the Qatar National Convention Centre, attended by more than 500 contractors, to stress the importance of its Mandatory Standards of Migrant Workers' Welfare for Contractors and Subcontractors.
The gathering underlined the extent to which Qatar Foundation is taking the issue of migrant workers' rights seriously.
Addressing the audience, Engineer Jassim M Telefat, Group Executive Director of Qatar Foundation's Capital Projects and Facilities Management, warned that severe action would be taken against any company not adhering to the standards.
"Qatar is well known for its hospitality, and we consider the workers our guests," he said. "We are doing our utmost to ensure everyone working with Qatar Foundation has a good quality of life, respectable living conditions and an appropriate work environment."
The conference, which was organized by Qatar Foundation's Health, Safety, Security and Environment Directorate (HSSE) and Procurement Directorate (PD), also aimed to raise awareness of Qatar Foundation's new HSSE pre-qualification criteria.
With immediate effect, all contractors and subcontractors are expected to adhere to these guidelines in order to be eligible for any upcoming strategic tenders.
"Complying with the law and QF regulations is the primary condition for being eligible for future contracts with Qatar Foundation. Any supplier, contractor or subcontractor that violates this basic criteria will not be considered for any Qatar Foundation contracts," Eng. Telefat added.
He also revealed a plan to launch a hotline for workers so they can lodge complaints and suggestions regarding their living and working conditions.
"It is the responsibility of every contractor, subcontractor and supplier to make sure that they self-audit their practices," he warned. "In addition, we will be creating a helpline where workers can report any violations that take place. These are the key factors for achieving the vision of the Foundation to unlock human potential and improve the standard of living of those residing in Qatar."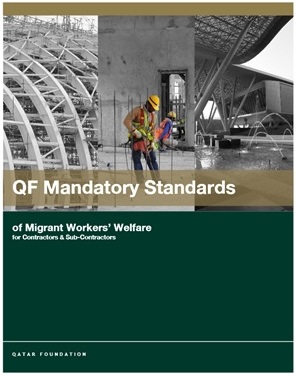 Engineer Telefat also noted that a special department within the Foundation has been created to address all workers' welfare issues. He explained that this department would also conduct regular assessments and inspections of all contractors to ensure they are complying with the criteria.
Qatar Foundation will ensure that all contractors meet their contractual obligations to employees, and that the Mandatory Standards of Migrant Workers' Welfare for Contractors and Subcontractors are enforced, by rigorously holding to account all companies working with the Foundation.
Last April, Qatar Foundation pledged to enhance the quality of life of all its migrant workers and eradicate unfair employment practices by launching the new workers' welfare Mandatory Standards, which is based on a holistic and principled approach that combines Qatari Labour Law and international best practice.
Through its mandatory standards, Qatar Foundation has introduced minimum requirements in relation to recruitment, living and working conditions, and the general treatment of workers engaged in construction and other projects.
Attending the event from Qatar Foundation alongside Engineer Telefat was Sheikha Amal Al Thani, HSSE Acting Executive Director, Mohammed Bakhamis, HSE Director, Christopher Newman, Welfare Manager, Ameena Ahmadi, Acting Technical Director of the Capital Projects Directorate, Abdulla N. Al-Naemi, Procurement Director, Mohammed D. Al-Dosari, Strategic Sourcing Senior Manager, and Ahmed Abdi, Strategic Sourcing Manager.
During the event, Ameena Ahmadi informed those gathered about Qatar Foundation's current Education City Master Plan and upcoming projects and future construction opportunities. In a separate presentation, Roger Griffiths, Director of Design Entrepreneurship at Virginia Commonwealth University in Qatar, showcased the Research and Development initiatives currently being implemented for migrant workers.