Qatar Foundation (QF) today announced the winner of its inaugural Akhlaquna Award, an initiative designed to recognize and celebrate young people who display exemplary moral character toward the good of humanity.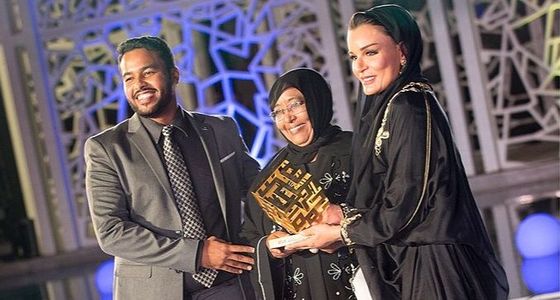 Her Highness Sheikha Moza bint Nasser, Chairperson of Qatar Foundation, presented the award to Swar Al Dahab Ali for his initiative 'Mercy In Giving', during QF's Convocation 2018 ceremony at the Ceremonial Court in Education City.
Mrs. Machaille Al-Naimi, President of Community Development, QF, said: "The Akhlaquna Award honors individuals who embody the values of the Prophet Mohammed (PBUH), including generosity, tolerance, mercy, and honesty. Through this initiative, Qatar Foundation aims to empower the next generation of leaders by encouraging young people to harness these universal values as guiding principles towards a greater good. Ultimately, it demonstrates QF's commitment to supporting and celebrating the work of young people who are effecting positive change in their communities."
Swar's 'Mercy In Giving' initiative aims to create a movement that brings together various organizations from the education, health, and social sectors, allowing them the freedom to choose the scope of their contribution to tackling specific issues within society.
Swar adopted the idea when he volunteered with the humanitarian organization 'Mujadedun' in Sudan and is now hoping to spread the concept in other countries. Working with Mujadedun, Swar helped to integrate homeless children and war victims into society by encouraging different sectors to contribute to the initiative. 
"I extend my sincerest congratulations to this year's winner, Swar Al Dahab Ali. Through his initiative, 'Mercy in Giving', Swar demonstrated strong leadership qualities and an unwavering commitment to be of service to others. He is helping to drive a social movement that inspires young people to be a powerful force within society," Mrs. Al-Naimi added.
"At QF, we've been hugely encouraged by the response to this year's competition and are looking forward to increased participation and public involvement for Akhlaquna 2019, which will focus on a new set of values."
Swar commented: "The purpose of my project will be fulfilled when all the communities in the world come together, regardless of which field they are in, to show mercy. The main idea of my project is that anyone from any community can do it with me – my dream is not just to get the award, my dream is to find others to continue this project with me. So, my next plan is to raise awareness of this initiative in Qatar, and then internationally."
To read more, click
here
.