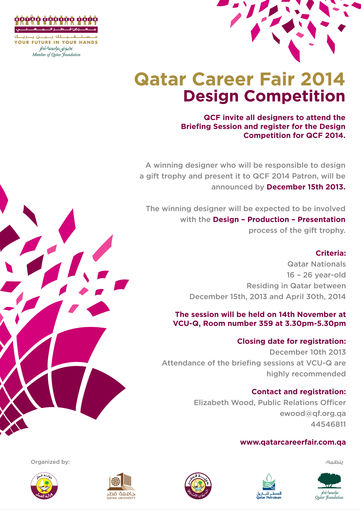 Qatar Career Fair (QCF) has announced its 2014 Design Competition at the Virginia Commonwealth University-Qatar (VCU-Q) on Thursday, 14 November 2013.
The Design competition which is held annually is one of the several competitions led by Qatar Career Fair.
To inform and encourage Qatari designers to participate in the competition, QCF hosted a briefing session at VCU-Q where attendees had the chance to learn more about the rules and guidelines of the competition.
Participants will submit concepts for a gift trophy worth QR50,000 and the winning designer will get the chance to work closely with a production team to bring their concept to life.
The winner of the competition will be announced at the QCF Opening Ceremony in April 2014.
Each year, the concept of this competition revolves around designing a gift that embodies the vision of Qatar Career Fair, which plays an active role in the development of Qatar's youth by providing opportunities for education, employment, training, and development.
Criteria for participation: 16-26 year old Qatari Nationals currently residing in Qatar.
Closing date for registration: 10 December 2013.
For the full story, please
click here
.