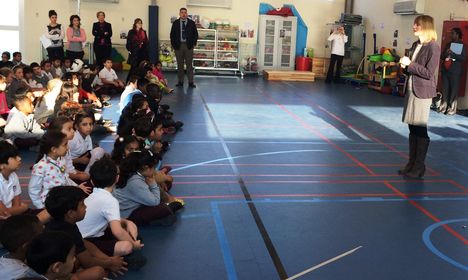 Qatar Academy Sidra (QA Sidra) was filled with aspiring doctors, engineers, artists and football players as it hosted its second annual Career Day for students on Wednesday 22 January 2014.The students dressed up in uniforms representing the occupations which they aspire towards, and parents and other community members were invited to speak to students about their own careers.
Elementary school students participated in career bingo, where teachers described careers and the students had to select the career which was being spoken about. Middle school students had to research a career based on their completed interest questionnaire and then gave a presentation about that career to their peers.
QA Sidra's Counselor Jennifer Bieck helped organize the Career Day and said: "Career exploration is important, even for elementary and middle school students. The younger they are when they connect the importance of education to the world of work, the more successful they will be, in and out of the classroom."
Career Day is a part of the school's parental involvement initiative. Qatar Academy Sidra opened its doors in September 2012 as a part of Qatar Foundation (QF) for Education, Science and Community Development. The school currently caters to Pre-Kindergarten through Grade 8.
Each year, the school will add one academic grade level. Upon completion, the school will cater for early childhood (six months) through to Grade 12.
For the full story, please
click here
.