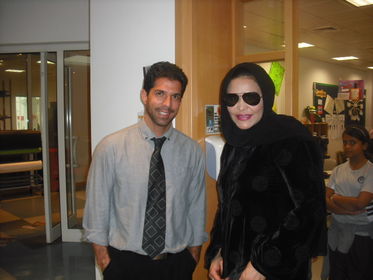 "Math is everywhere. We love it when we find something that engages student interest in learning," Qatar Academy Primary School Principal Sandra Sheppard remarked as this year's family math day unfolded.
Family Math Day aims to engage students to master key math concepts and skills while allowing their parents to take a more active role in their learning. Sheppard shares that "QA teachers are talented and passionate people who share their ideas and excitement to teach our students Math.A day like today allows our parents into their child's school life – an attitude we try to encourage whenever possible here at QA".
And what a success the day was as it officially started as soon as the first bell rang with so many parents eagerly waiting outside the classroom. Students were buzzing with excitement at the anticipation of showing their parents the math concepts they have been learning and games they have been practicing the past few months. A steady stream of parents, cousins, family members were all cascading in and out of class. Students were eager to compete against their parents in the varied Math game stations and the occasional shriek could be heard when a child beat their parents.
The day also brought a welcome surprise. Fahad of 4A had his mom, the famous Ahlam from Arab Idol, visit and participate in several games with his classmates and their parents in the class. Ahlam was very gracious to pose for pictures and answer all the questions from curious students and parents.
Grade four teacher Don Douglas has nothing but appreciation for all the families that came to support their child in Family Math Day. "The turnout was a success and it's nice to see the community getting involved," he says.