A team of local and international experts in nutrition shared recent trends and the latest research into the impact of diet on health on a new course offered by Weill Cornell Medicine-Qatar (WCM-Q).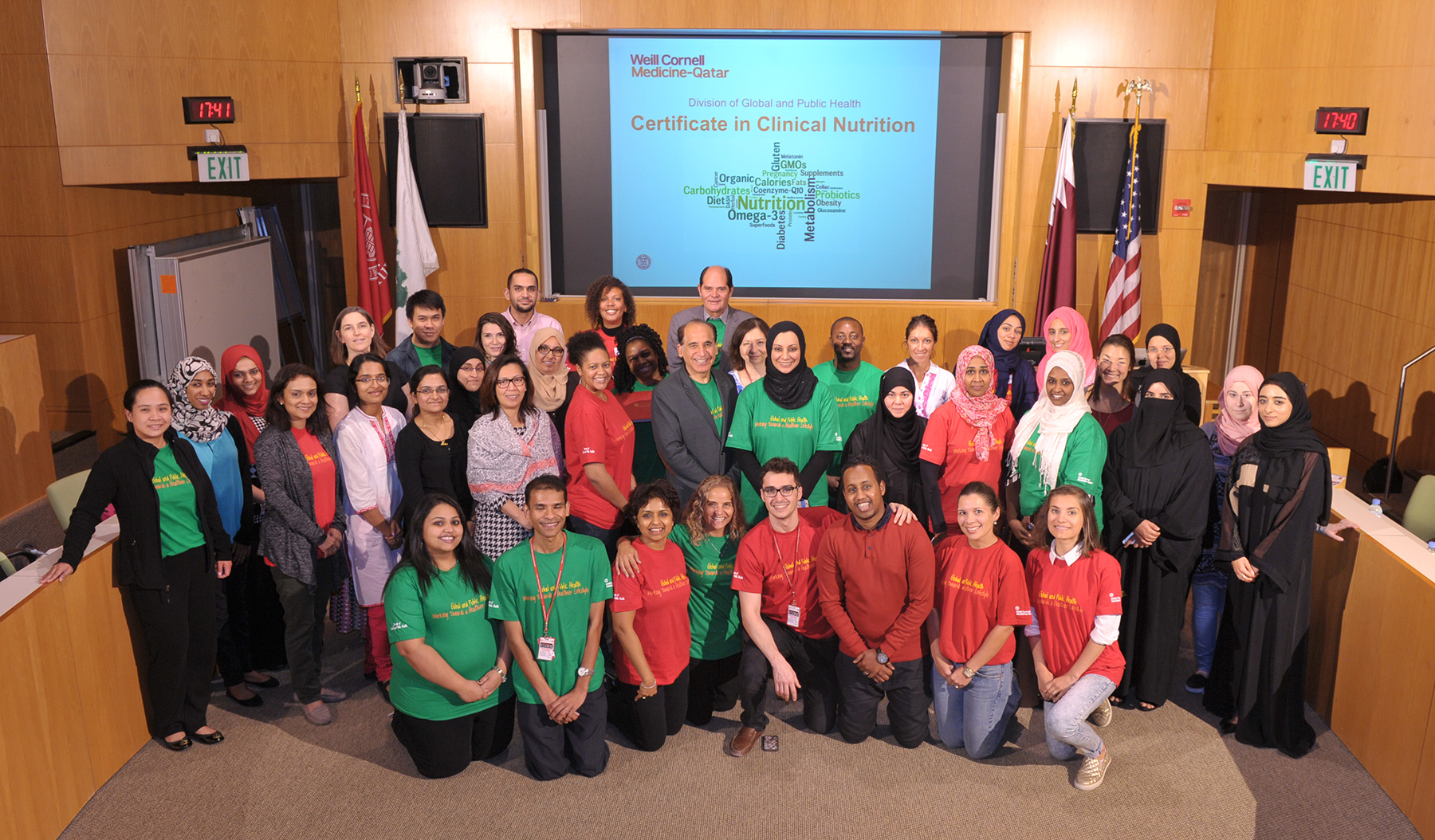 Organized by WCM-Q's Division of Global and Public Health, the 50-hour intensive Certificate in Clinical Nutrition Course gave 51 healthcare professionals, educators, researchers and dieticians in attendance enhanced knowledge of key issues relating to nutrition and health.
Through a series of presentations, discussions and workshops, participants learned about the impact on health of popular nutritional and herbal supplements, elimination and anti-inflammation diets, Mediterranean-style dietary habits, veganism and vegetarianism, and the role of nutrition in the causation and management of chronic conditions such as obesity, cancer and diabetes.
The WCM-Q course gives detailed instructions on how to plan healthy nutrition regimens for all types of individuals, including children, pregnant and lactating women, and the elderly. All attendees who completed the course, which was held on four consecutive Saturdays, were awarded the Certificate in Clinical Nutrition.
Other presenters included WCM-Q's Dr. Rayaz Malik, Professor of Medicine; Dr. Shahrad Taheri, Professor of Medicine and Director of the Clinical Research Core; Dr. Mohamud Verjee, Associate Professor of Family Medicine; Dr. Moncef Ladjimi, Professor of Biochemistry; Dr. Badreldeen Ahmed, Professor of Clinical Obstetrics and Gynecology at WCM-Q and Director of the Feto Maternal Center; and Dr. Amal Khidir, Assistant Professor of Pediatrics.
The other presenters were Dr. David Reilly, Consultant Physician at the NHS Centre of Integrative Care in Glasgow, Scotland, and Dr. Mohammed Ilyas Khan, Lactation Consultant and Maternal and Child Health Specialist at Hamad Medical Corporation's Al Khor Hospital.
In total, the course consisted of 32 hours of direct, on-site contact at WCM-Q and a further 18 hours of self-study using online course materials.
For the full story, please
click here.