Pakistan's Federal Minister of Interior and Minister of Planning, Development, and Reform, Ahsan Iqbal Chaudhary, recently visited Georgetown University in Qatar (GU-Q) to talk about his country's strategy for economic development. In a talk titled 'Pakistan's New Economic Corridor and Beyond' the minister explored the challenges and opportunities facing the country, and the role China is playing in its growth.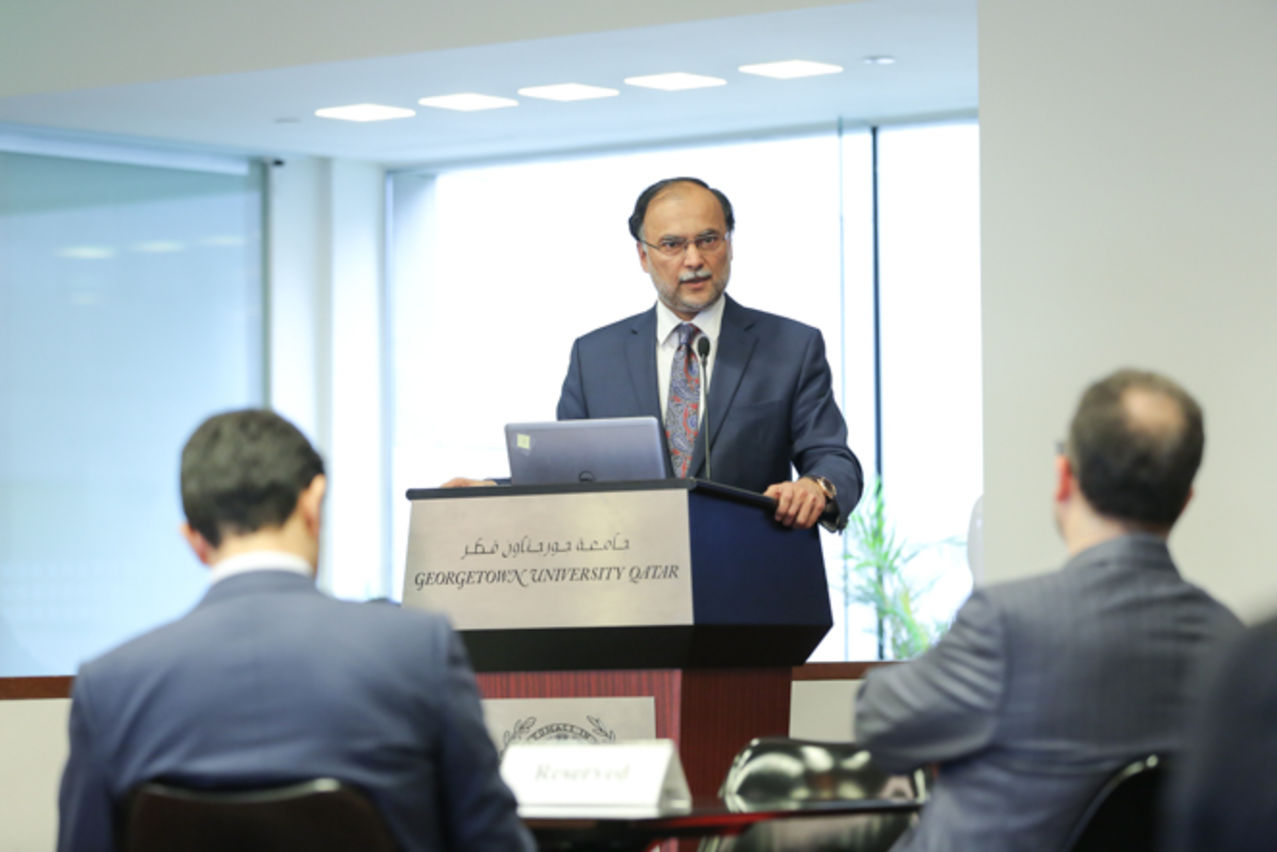 Chaudhary's lecture, which was attended by GU-Q students, staff, faculty, and invited guests, focused on the interconnected nature of the world today, where events in one country can quickly affect an entire region. In his presentation, the minister explained that this is creating a shared destiny for all, with it becoming increasingly difficult for one nation to act alone.
"Today, we are living in very interesting times," said Chaudhary. "Our world today is experiencing new challenges. The role of leadership is to make as smooth a transition as possible by following a collaborative path."
As part of these shared efforts, Chaudhary explained how Pakistan is working with China in areas ranging from infrastructure development to marine trade, energy generation, and industrial production. This will create a new economic corridor from South West China to Pakistan, linking the two nations by road and sea.
The minister explained how this regional link will contribute to the emergence of Asia as an important global hub, and create new markets and connectivity between the countries. However, for this strategy to be effective, Chaudhary stressed the importance of creating the stable, peaceful environment that is needed for the region to flourish.
"Conflict has no winners," he said. "Everyone is a loser in conflict. Fortunately, the shadows of peace are becoming longer."
The visit to GU-Q was not Chaudhary's first interaction with Georgetown; the minister has also participated in the Georgetown Leadership Seminar, an invitation-only executive education program hosted by the Institute for the Study of Diplomacy at the Edmund A. Walsh School of Foreign Service at Georgetown Main Campus in Washington, D.C.
GU-Q will be visiting Islamabad, Karachi, and Lahore from 20-27 November to meet with students interested in applying to the university. More information is available on the GU-Q website: qatar.georgetown.edu/admissions