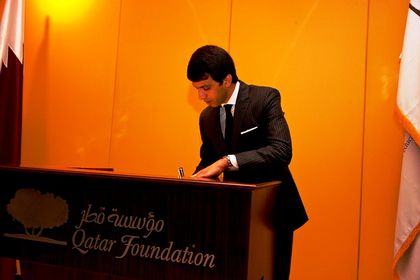 Qatar Foundation hosted the Moroccan Olympic champion Hicham El Guerrouj on 12 December.
As a top-level sportsman, El Guerrouj is an Ambassador for Peace and Sport, a Monaco-based international organization, as well as a member of its Champions for Peace club, a group of 54 famous athletes committed to peace in the world through sport. El Guerrouj is also a member of the International Olympic Committee Athletes' Commission and a UNICEF Goodwill Ambassador. He was named the International Association of Athletics Federations (IAAF) World Athlete of the Year in 2001, 2002 and 2003.
El Guerrouj, who set a world record and won gold medals in the 1,500 meters and 5,000 meters races at the 2004 Olympics in Athens, said, "I am very happy to have visited Qatar Foundation, since it helped me form a much clearer understanding of the organization's various initiatives."
He added, "Despite my interest in sports, what captured attention was the Foundation's steadfast commitment to education, under the support and guidance of Her Highness Sheikha Moza bint Nasser, Chairperson of Qatar Foundation. Education is a key to the future of our children and countries and it is what helps to build a strong society that we can all be proud of."
El Guerrouj came on a visit to Qatar to take part in Doha GOALS 2013, an annual forum that is held under the patronage of His Highness Sheikh Tamim Bin Hamad Al Thani, Amir of Qatar, and which aims to build a community of global influencers from all industries who believe that sport is a crucial vehicle for social and economic development.
For the full story, please
click here
.