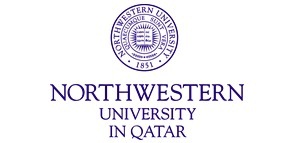 NU-Q's annual career fair on 5 February, drew executives from over 24, top media companies, all eager to help students map out their futures.
Here, second-year journalism student James Zachary Hollo chats with Agency 222 HR Director Nermin El-Mongi.
Another one of the various high-profile companies seeking graduates and interns from NU-Q was Doha Film Institute. Senior Human Resources Officer at the Doha Film Institute, Heba Ahmed was keen to attend NU-Q's career fair this year to recruit NU-Q students for DFI's specialized internship program.
She said, "We are looking for creative, enthusiastic and active NU-Q students to apply to our internship program, which aims to expose these students to real work environments. We usually participate in career fairs across Education City, but this year we are exclusively recruiting from NU-Q for our internship program. After a number of years of recruiting different students we found out that students at NU-Q possess a special skill set most suitable to our needs".