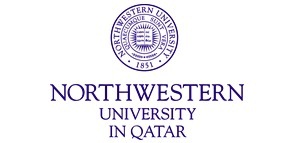 Northwestern University in Qatar recently celebrated the successes of students who demonstrated academic excellence, securing their spots on the fall semester Dean's List.
The list comprises communication majors who achieved a 3.75 grade point average (GPA) on three graded courses, and journalism majors who achieved a 3.7 GPA on three graded courses or, if on residency, completed two graded courses in addition to their residency.
Nine freshmen, 16 sophomores, 15 juniors and 11 seniors earned a place on the distinguished list, as follows:
Communication students: Nissryne Rifaa Dib, Ibrahim Sultan AlHashmi, AlDana Al-Meslemani, Eun Ah Rhee, James Copplestone Farmer, Jemina Marcos Legaspi, Hassan Asif, Rawda Hamad Al-Thani, Reel Bakry Mahir, Sara Abdulaziz Al-Derham, Syed Owais Ali, Shahnawaz Imran Zali, Aisha Mohammed Al Mansoor, Abdullah Idris Gamil, Valeria Vladislavova Marinova, Farida Amgad Zahran, Vibhav Guatam, Layan Amin AbdulShkoor, Mohammed Abdullah Buhmaid, Malak S. Alomari, Mae Ahmed Al-Haroon, Najwa Abdulrahman Al-Thani, Nawal Kamel Alirani, Noora Nasser Al-Thani, Hazar Adnan Eskandar, Hend Bader Darwish, Hind Hassan Al-Ansari, Noor Mohamed K.H. Al-Thani and Yazan Emad Abu Ghaidah.
Journalism students: Maha Reyad Al-Ansari, Abir Bouguerra, Allaa Adel Al-Khalaf, Aamena Ahmed, Amna Al-Saadi, Tamador AlSulaiti, James Zachary Hollo, Jaimee Lee Haddad, Hamza Hamed Alony, Haneen Nitham Hindi, Zena Assem Al Tahhan, Sara Hamad Al-Mohannadi, Sama Haytham Abduljawad, Aamer Elsayed Hassan, Qingjia Jiang, Nayab Malik, Muhammad Shakeeb Asrar, Malak Ahmed Monir, Marium Wael Saeed, Nayla Rashid Al Thani, Yara Bader Darwish and Yi Wang.
For the full story, please
click here
.