What has been called "the secret history" of Arab influence in the foundations of higher education is the topic of an occasional paper published this month by Northwestern University in Qatar (NU-Q). Long before colleges and universities thrived in Europe, Arab centers of learning were thriving, the paper posits.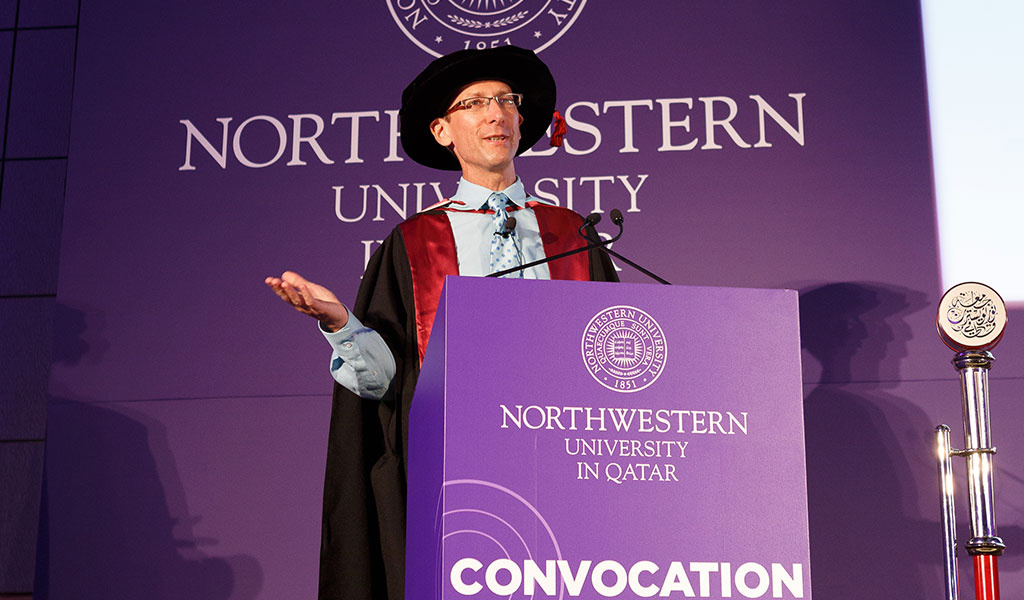 'The Western University and The Arab Tradition: A Secret History' is an expanded version of a convocation address at NU-Q in August 2015 given by Jonathan Lyons, a historian and former journalist who is an expert on the intellectual history of the Middle East.
Lyons spent a week at NU-Q last academic year meeting with faculty and students, lecturing and contributing to workshops and discussions. Known for his seminal book, The House of Wisdom, which chronicles the role of early Arab mathematicians, philosophers, and other thinkers, he is the author of several other books on the Middle East and higher education traditions.
In his paper, Lyons explores how the Arab tradition has affected the creation of higher education in the West, claiming the Western narrative has established a "monopoly … on the idea of science and, simultaneously, strengthening the narrative of the relative backwardness or even outright failure of non-Western traditions—Arab, Chinese, Hindu, and others."
In addition to illustrating how several organizational and institutional components of the Western tradition can be found earlier within Muslim traditions, he also points to the core mission of a liberal arts education as having its roots in the Arab world.
In his conclusion, Lyons offers some lessons for today, including what he calls a "dramatic rethinking of the Western idea of Islam."
Lyons is a former correspondent for the Reuters news agency, received his doctorate in sociology at Monash University and has taught at Monash University, George Mason University, and the Center for Muslim-Christian Understanding at Georgetown University.
Lyons' presentation at the university's annual convocation for new students was greeted enthusiastically by students, parents, and the faculty, it was reported. "That is why we asked him go expand his remarks so we could share this vital history with others," the dean said.
For the full story, please
click here.