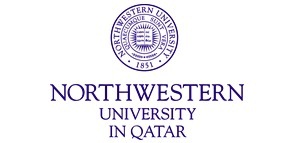 Northwestern University in Qatar celebrated its second graduating class, made up of 33 graduates, at Qatar National Convention Center on 5 May.
The Class of 2013, among them 15 Qataris, received Bachelors of Science degrees in Journalism (16) and Communication (17). Several graduated with minors in Public Relations, Business Studies and, for the first time, certificates in Middle East Studies. Nine seniors graduated with academic honors: three
summa cum laude
, three
magna cum laude
, three
cum laude
.
Speaking at NU-Q's 2013 Graduation Ceremony were HE Sheikh Ahmed bin Jassim Mohammed Al Thani, Director General of Al Jazeera and a member of NU-Q's Joint Advisory Board, as well as Northwestern University President Morton Schapiro and Dean Dennis.
Dana Atrach was announced as the Class of 2013 Valedictorian as well as recipient of the Communication Award and Student Leadership Award.
In addition, the recipients of the Dean's Award were announced to be Jassim Kunji and Motasem Kalaji, while the Liberal Arts Award and the Journalism Award were received by Shahd Dauleh and Sidra Ayub respectively.
The graduation ceremony also featured a keynote speech by Qatari writer and film-maker Sophia Al-Maria, author of the critically acclaimed
The Girl Who Fell to Earth
.
NU-Q has some 16 nationalities on its campus, and many of its Qatari and Arab students have grown up around the world and are now graduating from an institution that brings over 150 years of intellectual evidence, largely from its home campus in Evanston.
To read the full story, please click
here
.