Students at NU-Q ran a live news program in its state-of-art Newsroom before Her Excellency Sheikha Hind bint Hamad Al Thani, vice chairperson and CEO of Qatar Foundation, and fellow members of the university's Joint Advisory Board, along with invited guests, faculty, staff, and students as part of dedication ceremony held in the Newsroom.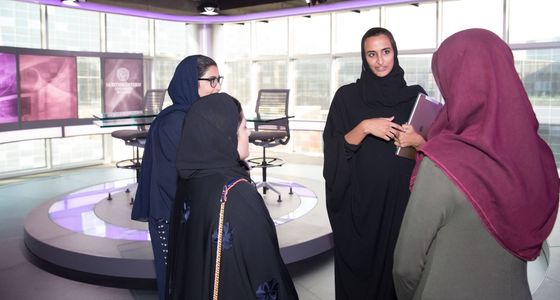 The newscast gave guests an immersive experience by running a live choreographed show to demonstrate some of the Newsroom's most impressive features, including the use of robotic cameras, live-feeds from different locations, smart data visualization, and modular reporting around the newsroom. The demonstration portrayed how the Newsroom's different areas work as one unit to run a complete show, while incorporating live feed from reporters around Education City and displaying different graphics on the screens.
The Newsroom features four main areas - news desk, social media set, modular video wall, and an area for a talk show.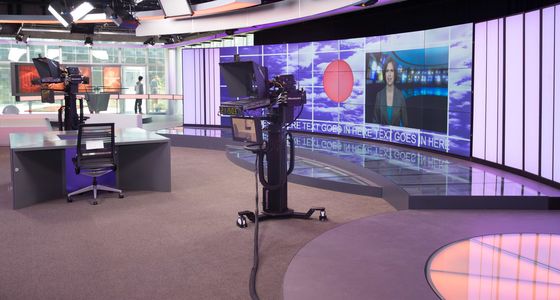 The news desk is a glass table that can fit up to three presenters and features an interactive backdrop displaying a variety of content. The social media set allows users to take feeds from multiple social media platforms, such as Facebook, Twitter, Instagram, and Snapchat, and convert them into graphics or stream selected content on a live screen.
The 18-screen multipurpose video wall can stream news channels, weather reports, graphics, data visualizations, maps, and live feed coverage from events. And the talk show area serves as an informal area where students can practice interviewing multiple guests in a contemporary setting.
The Newsroom was designed by Lebanese architect, Ali Wazani, who is well known for his work with major news operations in the region. In addition to the faculty working with students, NU-Q also has a team of professionals in production and digital media services who oversaw the design and construction of the Newsroom.
To take advantage of the Newsroom, NU-Q will offer courses that integrate technology, broadcast, and production with journalism and strategic communication, such as 360-degree video production, podcast creation, and digital storytelling.
To read more, please click
here
.