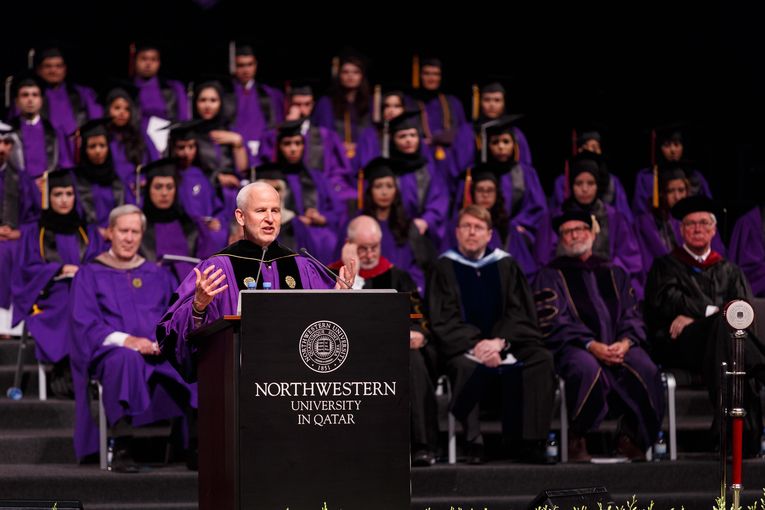 Northwestern University in Qatar honored its third graduating class at graduation exercises Sunday, 4 May, in a ceremony where students heard an address by Oscar-nominated filmmaker Jehane Noujaim.
More than 900 people were in attendance at the Qatar National Conference Centre as Northwestern University president Morton Schapiro extolled the achievement of the graduates of NU-Q, which offers bachelor's degrees in journalism and communication.
Thirty graduating seniors received their Northwestern University diplomas in the presence of family, friends and leading international figures in the fields of media, filmmaking and journalism.
Noujaim—the filmmaker behind the nominated documentary entitled The Square, which follows characters in Cairo through the January 2011 uprising—engaged NU-Q's graduating class, sharing unique insights from her background and diverse successes in the field of media.
The Class of 2014 included 14 different nationalities, demonstrating Northwestern University's historical role in promoting global understanding and developing a multinational alumni network for its graduates.
As further testament to the quality of its curriculum, NU-Q saw a number of its graduates this year accepted to esteemed graduate programs, including Northwestern, Cambridge, Harvard and Columbia.
During the President's awards lunch held earlier in the day, NU-Q recognized graduates for their outstanding academic achievements.
Graduating senior Yara Darwish received the Journalism Award, Leadership Award and the Dean's Award. Hazar Eskandar, who graduated with a degree in communication, received the Communication Award, and Zena Al Tahhan received the Liberal Arts Award.
For the full story, please
click here
.