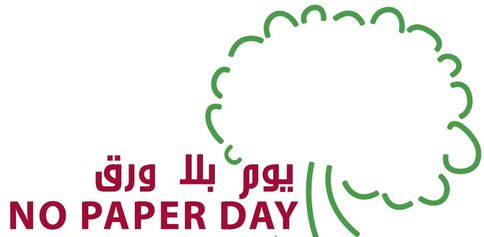 Qatar Green Building Council (QGBC) recently saw a wide array of companies and businesses take part in its 'No Paper Day' campaign to raise awareness about global deforestation.
Held on 3 April, the second annual run of the 'No Paper Day' initiative is part of QGBC's ongoing commitment to the sustainability objectives of the Qatar National Vision 2030.
As part of the campaign QGBC suggested a variety of useful tips that individuals could adopt in their daily lives, at home, at the office or at school, to help them stop wasting paper. Some tips included sending emails instead of faxes whenever possible, reducing company junk mail by cancelling unnecessary print subscriptions, as well as opting for e-tickets and mobile boarding passes when traveling.
QGBC experts estimate that Qatar's population uses a total of 5.4 million sheets of A4 paper a day, which translates into the cutting down of a staggering 540 trees.
Participants in this year's 'No Paper Day' campaign included Qatari Diar Vinci Construction,Eljaish Sports Club, the Habtoor Leighton Group, the Sukaina Secondary School,Intercontinental Doha the City, - Al Khaliji Commercial Bank, Advent Worldwide WLL, Amwaj Catering Services, Gasal Q.S.C, Wyndham Grand Regency Doha, Arabian MEP Contracting, ADCC JV (Aktor Qatar), Movenpick Tower and Suites, Doha, Governor West Bay Suites & Residences, National Petroleum Services Qatar (NPS-Qatar),Ooredoo Qatar, United Development Company (UDC) andCundall Qatar Consulting.
Last year, the 20 organizations which took part in the inaugural campaign subsequently reduced their daily paper consumption by 73 percent by simply adopting the tips suggested by QGBC.
For the full story, please
click here
.