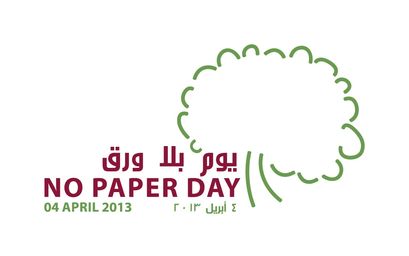 On 4 April Qatar Green Building Council (QGBC) called for individuals and organizations nationwide to take part in an initiative to reduce paper waste in the country, which is currently estimated at 5.4 million sheets of paper a day.
'No Paper Day Qatar' asked participants to record the amount of paper they use in a day and compare it to the amount they saved on 4 April.It also encouraged those taking part to 'upcycle' used paper products into creative projects, such as weaved baskets or paper flowers.
As of 3 April, more than a dozen organizations and countless individuals had registered to participate in the day. Businesses in the construction, hospitality, oil and petroleum industries took part alongside local schools and educational organizations.
"As part of the Qatar National Vision 2030 to strike a balance between developmental needs and the protection of the nation's environment, we must continue to raise public awareness of the important role that individuals and businesses play in preserving the country's habitats for future generations," explained Meshal Al Shamari, Director of QGBC.
"Our Solid Waste Interest Group is at the forefront of this initiative, and together we will be examining the results of this event in a larger report on waste produced in Qatar later this month."
QGBC founded the Solid Waste Interest Group (SWiG) in 2010 to raise awareness about solid waste issues in Qatar's built environment.
Visit the No Paper Day Qatar Facebook page for more information:
http://www.facebook.com/pages/No-Paper-Day-Qatar/175504132599075