Virginia Commonwealth University in Qatar held its 2013 Commencement Ceremony on 6 May at the Qatar Foundation Student Center, conferring 39 Bachelor of Fine Arts degrees in fashion, graphic, interior design and painting and printmaking and five Master of Fine Arts degrees in Design Studies. The 12th Commencement brings the number of VCUQatar alumni to 409.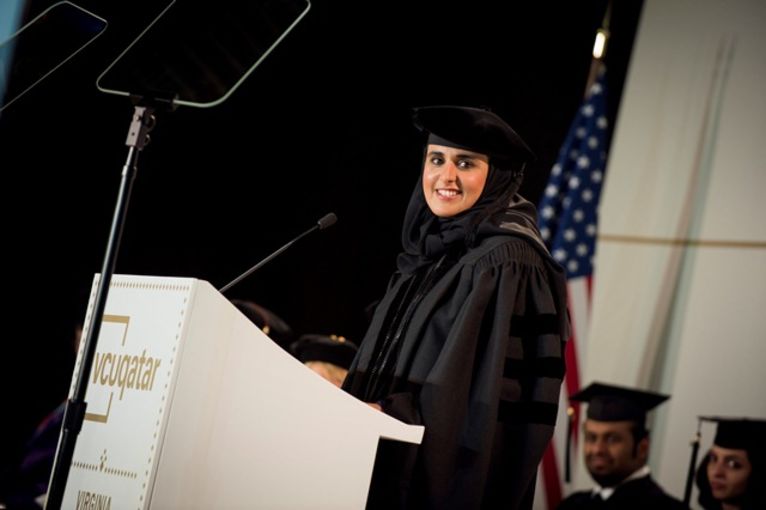 Her Excellency Sheikha Al Mayassa bint Hamad Al Thani, delivered the commencement address to the 44 graduates during the afternoon ceremonies. "I am honored to be with you today, standing in a place that dedicates itself to innovation and excellence. A place where learning is cherished and creativity nurtured. A place where beautiful minds have come to meet, and where the future is reinvented every day. And looking at your faces, dear Class of 2013, that future has never looked brighter.
"Made in VCUQatar confirms that our community is driving our nation to new cultural frontiers. We are not only translating ideas, but also making them right here, right now. That difference promise innovation, a unique voice and a vibrant brand. Locals, residents, from near and far, together, we make up a creative community, a community that will continue to grow to new heights, and one in which you can share and lead.
"As you leave here tonight, always have the courage to face difficult challenges but do not succumb to negative attitudes that are infectious, but ultimately counter-productive. With your gifts comes great responsibility, but don't lose sight. There is light at the end of each tunnel. Accept that solutions are not always straightforward. Create your brands, and leave a mark in this world for people to remember you, long after you're gone."
The 44 new VCUQatar graduates will join the band of 365 alumni who have gone on to successfully establish their own businesses or take up jobs in various positions in Qatar Foundation, the semi-government and private sectors and ministries in Qatar.
For the full story, please click here.