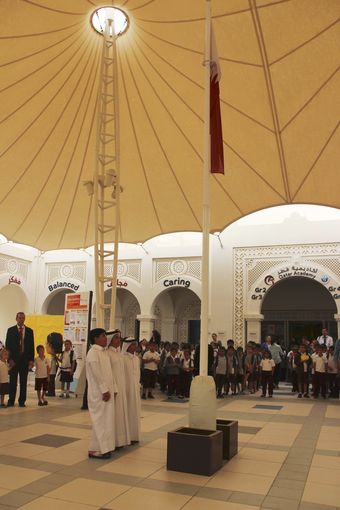 Qatar Academy continues to build on practices that instill national pride and promote community building with a flag raising ceremony slated to be conducted twice a month followed by an informal coffee gathering with the parents.
Through the efforts of the Arabic and Islamic Studies Department, this new initiative aims to help QA's Primary Years Programme students to understand Qatar's rich local customs and allow them to gain a broader perspective of the diverse cultural and national practices existing around the globe.
Zayid Qassim, Academic Coordinator for the Arabic department, also underscores the community aspect of the new practice. "We plan to hold this event in regular intervals of every two weeks as it aims to provide parents with the opportunity to get to know the teachers, be more involved in their children's education, and therefore motivating our students to show their best especially during the flag ceremony".
"This is also a simple way of expressing our gratitude and respect to the role parents play in our students' learning so after each ceremony, the teachers and students will be on hand to join the parents in a traditional Arabic coffee and dates gathering," he adds.
QA's Arabic and Islamic Studies Departments firmly uphold the practice of demonstrating a strong sense of pride and honor in one's identity and to "see our students sing with confidence and joy the national anthem in the presence of their parents, we realize the importance of teaching our children the value of respecting this new ceremony and relishing valuable community time it brings," Qassim says.