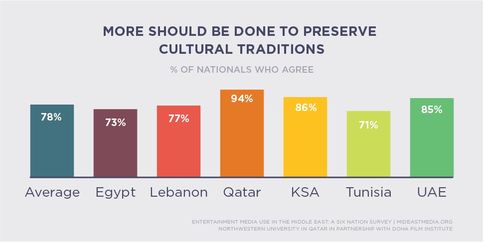 Findings from a massive pan-Arab study show high region-wide concern about cultural preservation and support for media regulation, but also a general embrace of international content.
The survey by Northwestern University in Qatar in partnership with Doha Film Institute reveals 65 percent of residents in six Arab countries want more content portraying their own culture and history, while an equal number (66 percent) say people benefit from watching content from different parts of the world.
Over 70 percent region-wide want greater regulation of romantic and violent content.
The 'Entertainment Media Use in the Middle East' survey represents 6,035 face-to-face interviews in nationally representative samples of Qatar, Saudi Arabia, Lebanon, Egypt, Tunisia and the United Arab Emirates.
Findings from the survey of both media use and cultural attitudes call into question a common perception that modernity and cultural preservation are at odds in the Arab world. While 79 percent of respondents feel that more should be done to preserve cultural traditions, a nearly similar percentage (70 percent) agree with the statement that more should be done to integrate their respective cultures with modern society.
"These apparently contradictory findings really are not, but reflect how the Arab world is coping with globalization and still grappling to preserve local culture," said Everette E Dennis, dean and CEO of Northwestern University in Qatar.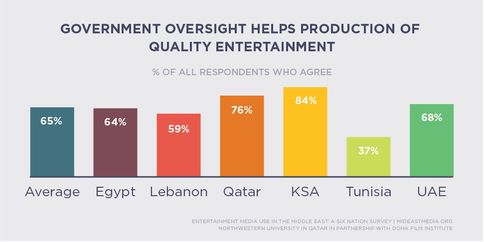 A vast majority of adults believe entertainment content should be more regulated for romantic content (69 percent) and violence (74 percent). Sixty-eight percent believe films or other entertainment programs should be banned altogether if they are found offensive.
The survey also showed that nearly half of women in the Arab world 'binge-watch' TV series (49 percent), whether online or on television (where 'binge-watching' is classified as viewing two or more episodes of a series in the same sitting). Only 31 percent of men surveyed do the same.
Other findings showed that:
-Saudi Arabia residents are more likely than others to listen to Western music (64 percent). Internet users in Saudi Arabia are also more likely than others to pay for online content, especially sports (64 percent).
-Residents of the UAE attend the cinema the most (82 percent), while those in Tunisia attend the least (15 percent).
-58 percent of adults listed comedy as one of their favorite types of film – more than any other genre.
-45 percent of Arabs in the countries surveyed say they watch US films. Thirty-four percent find Hollywood content 'harmful to morality' and the same number are of the opinion that Hollywood films do not accurately portray life in the Arab world (35 percent).
-65 percent of adults in all countries believe government oversight helps produce higher quality entertainment.
A more detailed summary of the methodology, sample and weighting can be found at mideastmedia.org.
To read the full article on Northwestern's website, please
click here
.