Four of the leading names in US basketball have showcased their skills and inspired others with their dedication to excellence as they visited Qatar Foundation (QF).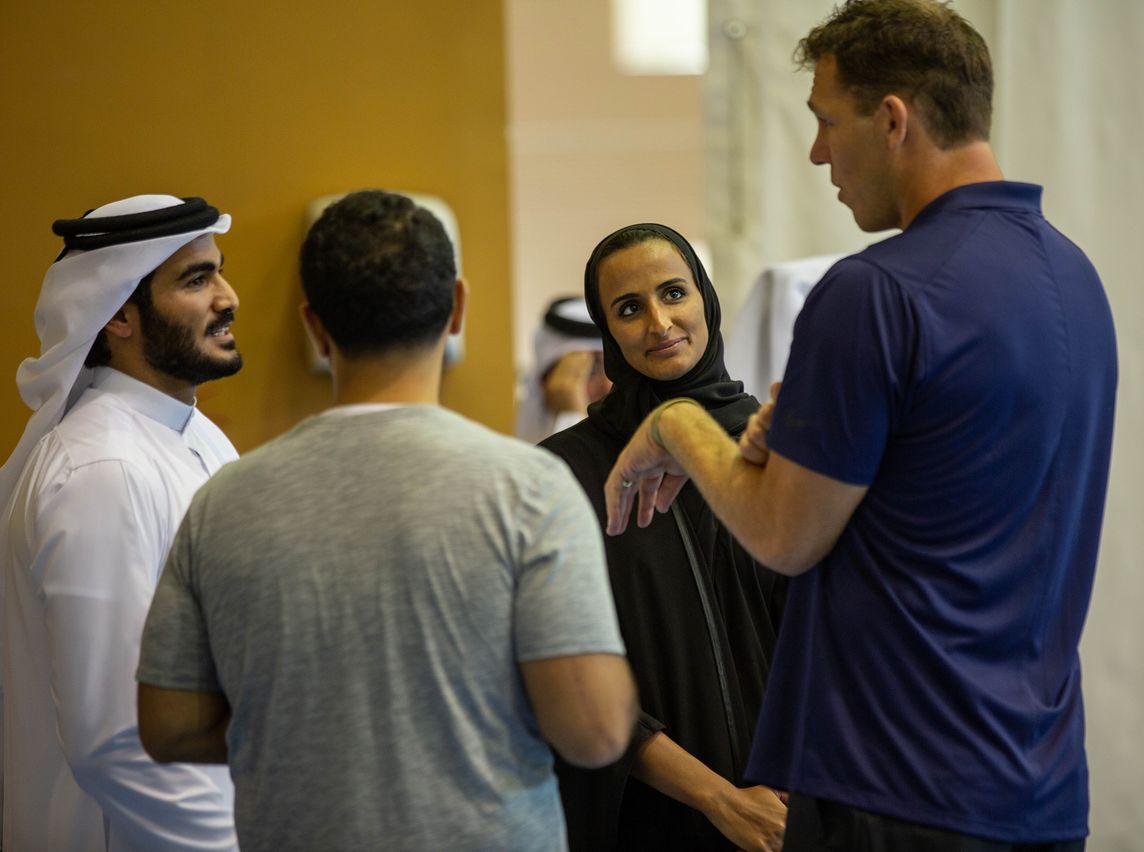 The stars from the National Basketball Association (NBA) are spending five days in Doha at the invitation of the Supreme Committee for Delivery & Legacy (SC) to see how Qatar is preparing to host the 2022 FIFA World CupTM, how the country is a destination that welcomes the world, and its commitment to encouraging young people to participate in sport.
As part of their visit to Qatar, the NBA guests held a Masterclass for about 40 schoolchildren at the Hamad Bin Khalifa University Student Center at QF's Education City, attended by Her Excellency Sheikha Hind bint Hamad Al Thani, Vice Chairperson and CEO of Qatar Foundation; His Excellency Sheikh Mohammed bin Ha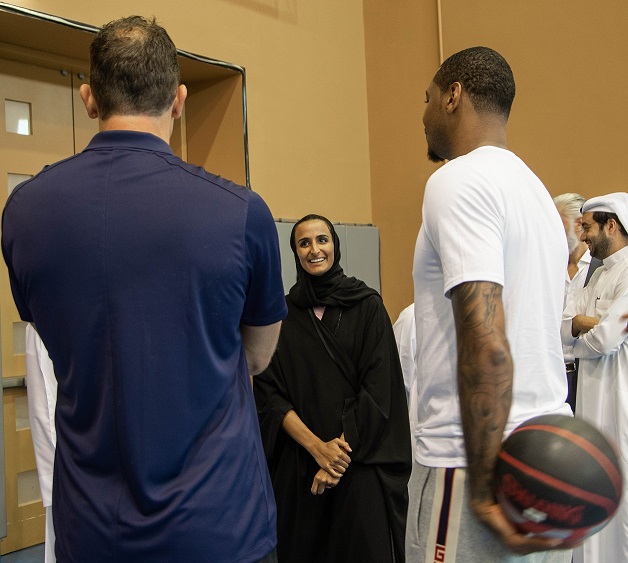 mad Al Thani, Managing Director, SC; His Excellency Hassan Al Thawadi, Secretary General, SC; Mr. Omran Al-Kuwari, Executive Director, CEO Office, QF; and other dignitaries.
The class, which was opened by H.E. Al Thawadi, saw triple Olympic gold medalist Carmelo Anthony of the Houston Rockets, four-time NBA All-Star Klay Thompson of the Golden State Warriors, seven-time NBA All-Star Tracy McGrady, and Los Angeles Lakers head coach Luke Walton pass on basketball tips to their young sporting students, before hosting a Q&A session. A friendly competition at QF then pitted the NBA players against Qatar's national basketball team.
The events at Education City illustrated how QF promotes sport and physical activity, as a key element of nurturing healthy lifestyles and stronger communities. The visit of the NBA stars also showcased how QF is supporting the 2022 FIFA World CupTM, Qatar's sporting ambitions, and its global profile as a forward-thinking, open, and diverse nation.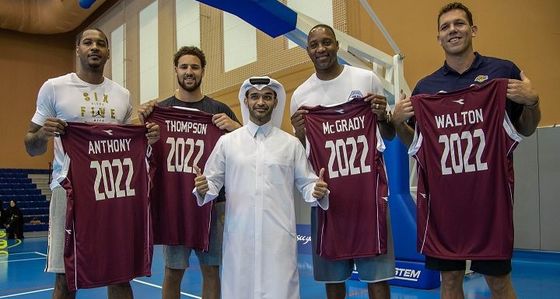 Mr. Al-Kuwari said: "The dedication and the values of professional sportspeople, such as our guests from the National Basketball Association whom we are delighted to welcome to QF, serve as inspiration for millions of people throughout the world.
"Meeting people who are not only heroes within their sport, but also positive role models for society in general, is an opportunity for members of the QF community to enhance their recognition of what is required to achieve our goals in life.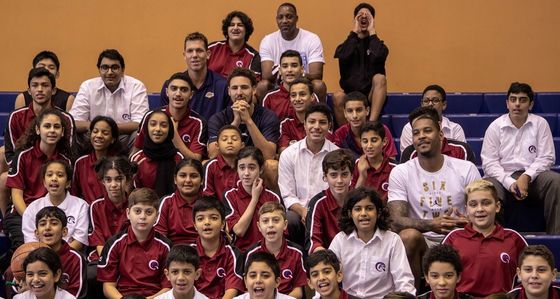 "Through their time at Education City, our guests from the NBA have been able to see how QF contributes to nurturing the love of sport that runs through our nation, and the importance that QF places on fostering healthy lifestyles as one of the cornerstones of a strong and sustainable society. By sharing their skills, their stories, and their paths to success, they have themselves contributed to our mission, through demonstrating to members of Qatar's next generation that, with commitment, challenges can be overcome and dreams realized."
Commenting on the visit, H.E. Al Thawadi said: "We're thrilled to be hosting these sporting icons - their visit is further testament to the support and excitement all over the world for the Qatar 2022 World Cup.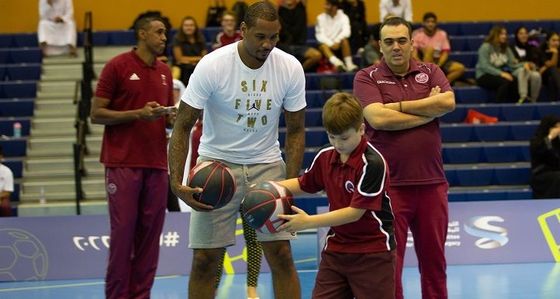 "We've always said sports have the power to transcend borders and bring people together. We're confident that these NBA superstars and their fans will see the great work we're doing to make Qatar 2022 truly amazing."
Reflecting on his visit to Education City, Anthony said: "It was great to learn that basketball has such a huge following in Qatar.
"We've been impressed with our tour of Qatar Foundation and Education City. The students were great, and it was amazing to see young people from all over the world pursuing their dreams."
Walton added: "We enjoyed sharing tips and shooting hoops with students at the Masterclass held by Qatar Foundation.
"I believe the best way to influence the next generation is to use every opportunity to mentor them. Every student has their personal goal, and hard work, together with the support of an organization like Qatar Foundation, gives them a much better chance of realizing those goals."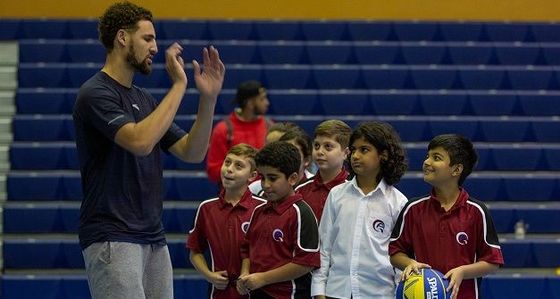 And speaking about his QF experience, Thompson said: "This Masterclass is an example of how Qatar Foundation is helping students who might otherwise not have access to an event like this. The facilities at Qatar Foundation, and the passion of the students, really show the spirit of Qatar ahead of the 2022 World Cup, and I'm excited to find out more about what Qatar has in store for the tournament."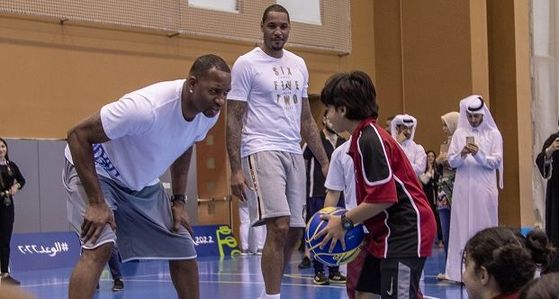 During their time at Education City, the NBA stars also met students from QF member Hamad Bin Khalifa University and QF's partner universities, sharing basketball tips and advice on how to succeed in life.
"These visits inspire students to take up leadership positions," said Khalid Al-Sayrafi, a Petroleum Engineering student at Texas A&M University at Qatar, a QF partner university. "Some of us consider these players as role models who have worked hard to reach where they are now, and this makes us want to work hard too. Whether you're in basketball or engineering, hard work is the key."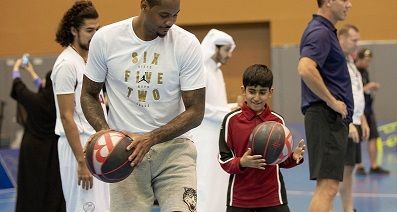 Haya Al-Ansari, an Art History student at Virginia Commonwealth University School of the Arts in Qatar, a QF partner university, said: "I'm a female basketball player myself, and I've been inspired by these NBA stars to play better and work harder, both in my game and in my studies."