An exhibition that interprets the vibrancy of Qatar's historic Msheireb district as a center of commerce opened 4 April 2017 at Msheireb Museums in Msheireb Downtown Doha.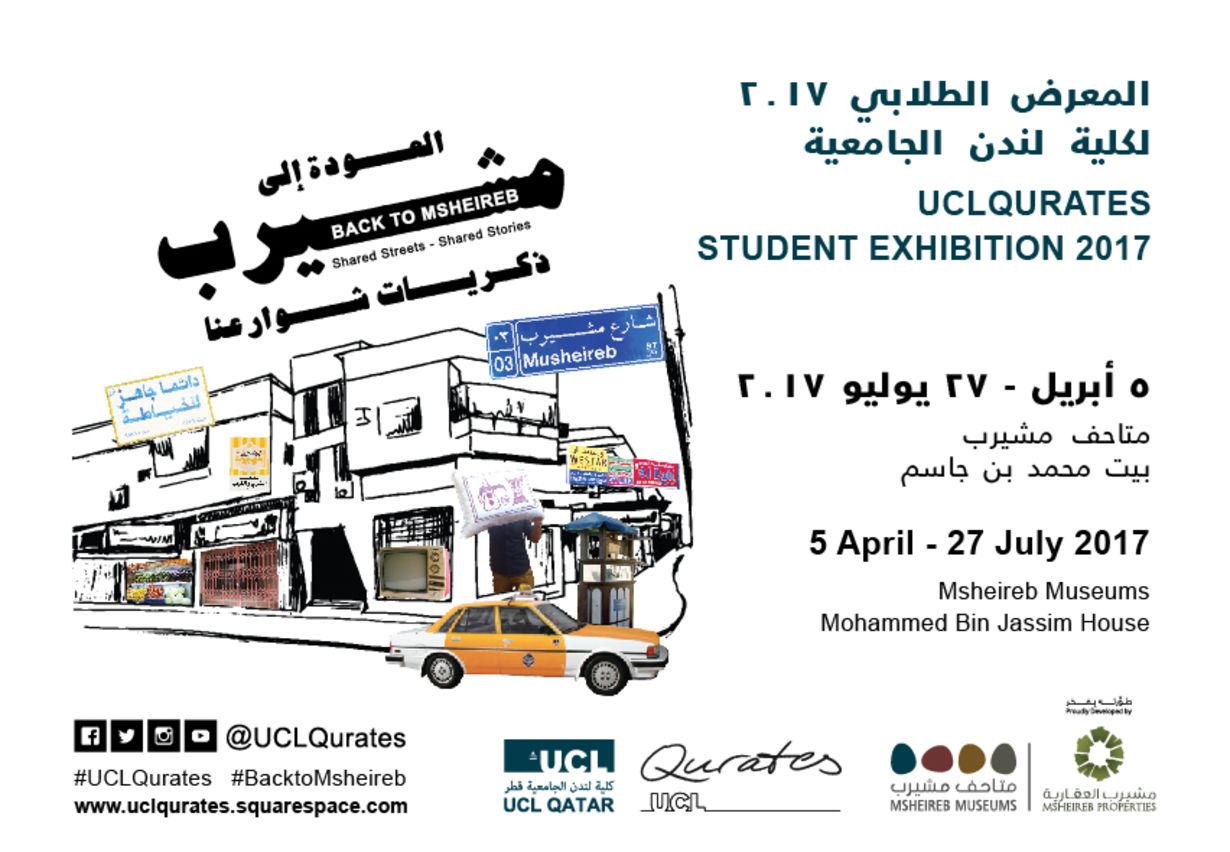 Entitled 'Back to Msheireb: Shared Streets - Shared Stories', the exhibition is organised by students of UCL Qatar, as part of their yearly UCL Qurates initiative of the Masters in Museum and Gallery Practice programme. The exhibition will remain open until 27 July 2017 at Mohammed Bin Jassim House in Msheireb Museums.
"This student-led project is a crucial, assessed component of the master's programme, which seeks to bridge the gap between museum theory and practice. The project affords our students – who are undergoing rigorous graduate training to further professionalise or to enter the museum profession, in Qatar or abroad – the unique opportunity to implement knowledge acquired on the programme, working collaboratively with a museum. The staff's dedication to the project, and their commitment to student learning and to their continuous professional development, has been pivotal in making the project a mutually rewarding and successful experience," said Dr Sam Evans, Director of UCL Qatar.
Over the last few months, this year's group of students have had the opportunity to explore and conduct curatorial research around Msheireb Museums' collection of objects and oral history archives, curating a temporary exhibition that complements the scope of the permanent galleries in the Mohammed Bin Jassim House.
Located within the Heritage Quarter, a historic area of Msheireb Downtown Doha, Mohammed Bin Jassim House is one of four heritage houses which has been restored to create a trusted cultural destination that enriches the community. Rooted in history, these reconstructed buildings and gallery spaces allow the community to engage with significant aspects of Qatar's past and memories of life before the country's rapid economic development.
The increase in economic wealth and employment opportunities in Qatar led to a growth in foreign populations from countries such as India, Pakistan, Iran, Lebanon, Syria, and the Philippines from the 1970s. Msheireb became the popular destination for shopping, and a hub for small local community between the 1980s and 2000s – long before the wider "mall culture" spread throughout the country – and allowed the meeting of diverse cultures, tastes, languages, and traditions.
'Back to Msheireb' presents a selection of found objects and oral histories of
personal memories of this former commercial neighborhood through an installation of pop-up stores inspired by the eclectic and often quirky character of this part of Doha.
Visitors are encouraged to share their photos of the exhibition on social media using #UCLQurates #BacktoMsheireb. For museum hours and more information, visit www.uclqurates.squarespace.com and @UCLQurates on Facebook.
To read more, please click 
here
.