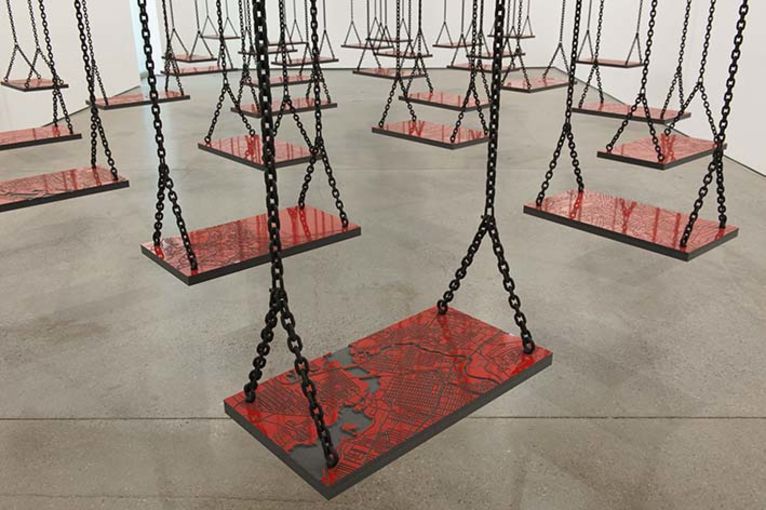 Mona Hatoum: Turbulence
Mathaf: Arab Museum of Modern Art
7 February 2014 – 18 May 2014
Curated by Sam Bardaouil and Till Fellrath
The exhibition
Mona Hatoum: Turbulence
brings to the forefront the diversity of Mona Hatoum's work over the last 30 years.
Curated by Sam Bardaouil and Till Fellrath of Art Reoriented, the exhibition's premise builds on the artist's topical work Turbulence (2012), a 4 x 4 meter square composed of thousands of glass marbles laid directly onto the floor.
Placed exactly at the centre of the exhibition, this installation lies at the heart of a linear but non-chronological trajectory whereby a number of unexpected juxtapositions echo the complexity through which the artist has managed to challenge, and at times disturb, our experience of the ordinary.
Mona Hatoum: Turbulence is the artist's largest solo exhibition to date in the Arab world.
It consists of more than 70 works ranging from large-scale room installations such as Light Sentence (1992) and Suspended (2011) to smaller works on paper and sculptural objects such as Projection (2006), and Untitled (wheelchair II) (1999) respectively.
Mona Hatoum: Turbulence is on view at Mathaf: the Arab Museum of Modern art from 7 February until 18 May 2014.
To read the full article on Mathaf's website, please
click here
.