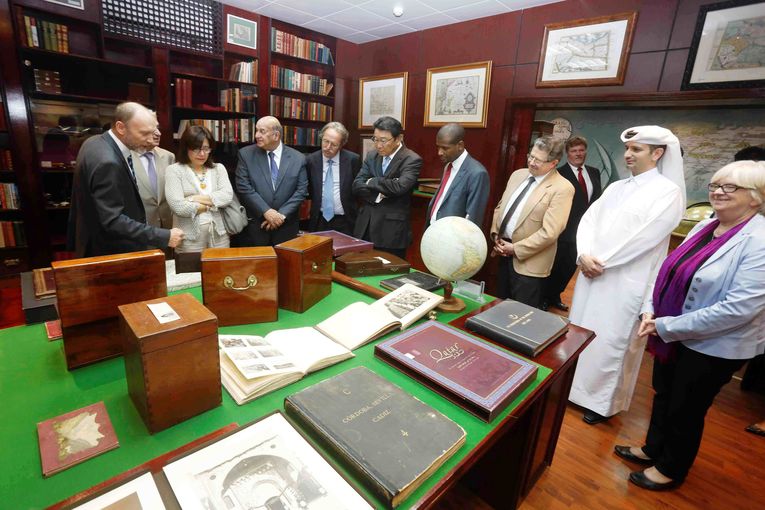 Qatar National Library (QNL) hosted a second successful Open Day for members of the public recently to explore its magnificent Arab and Islamic Heritage Collection.
Held to celebrate UNESCO's International Day for Monuments and Sites, hundreds of visitors flocked to its Heritage Collection's building to view the library's most prized and historic items. QNL's collection of globes, maps and documents relating to the archaeological site Al Zubarah were especially popular among the participants at this special event.
Speaking about the historic city in the north of the country, Saadi A. Al Said, QNL's Associate Director for Administration and Planning said: "This year's Heritage Collection Open Day specially recognized the archaeological site, which UNESCO declared as Qatar's first entry on to the World Heritage list in June 2013."
QNL's Arab and Islamic Heritage Collection regularly attracts diplomats and intellects from all over the world, and was visited by His Royal Highness Prince Charles, The Prince of Wales, during his visit to Qatar in February.Nine ambassadors from Argentina, Central African Republic, Costa Rica, Japan, Libya, Morocco, Peru, Switzerland and Turkey, plus representatives from Greece and Yemen enjoyed tours at the Open Day.
Founded in 1979 by His Excellency Sheikh Hassan bin Muhammad Al Thani, the Arab and Islamic Heritage Collection includes writings by travellers and explorers who visited the Arabian Gulf region over the centuries, Arab manuscripts, historical maps and globes, as well as scientific instruments and early photography.
QNL's Arab and Islamic Heritage Collection Building is located at 71 Al-Maha Street, Al-Luqta, Doha and is open every Sunday and Tuesday between 10am and 11.30am.
Visits must be booked in advance. For more details about visiting QNL's Collection, visit:
www.qnl.qa/visit-request-form
For the full story, please
click here
.