His Highness the Amir Sheikh Tamim bin Hamad Al -Thani visited on 4 December Qatar Foundation for Education, Science and Community Development (QF) where he was briefed on the latest projects that are supporting Qatar National Vision 2030.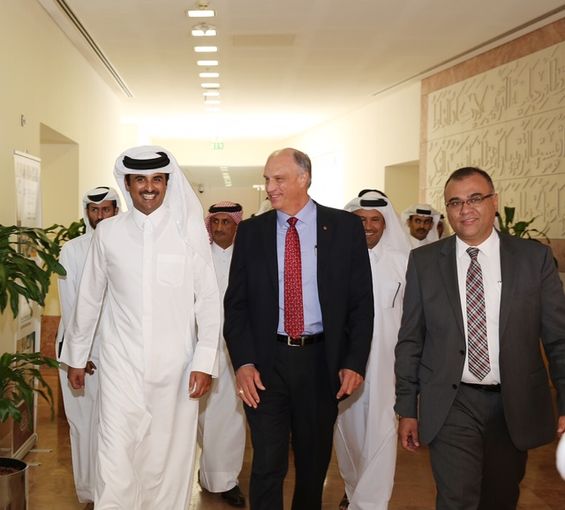 His Highness the Amir toured a number of prominent projects at Education City, including Qatar Faculty of Islamic Studies at Hamad bin Khalifa University, the Academic Bridge Program, and Texas A&M University at Qatar. At Texas A&M University at Qatar, His Highness was given full information on a range of initiatives, including the Qatar Sustainable Water and Energy Utilization Initiative, a Center of Excellence for research and capacity building; the Fuel Characterization Laboratory; the Wireless, Sensors, and Security Laboratory; and the Center for Remote Healthcare Technologies, where training and development activities take place.
His Highness the Amir also visited the cutting-edge HBKU Student Housing, which is the world's largest collection of platinum LEED-rated student residential buildings, and met with a number of Qatari students and graduates who have contributed to various industries in the country. His Highness the Amir applauded their dedication to seeking knowledge and encouraged them to excel in their fields.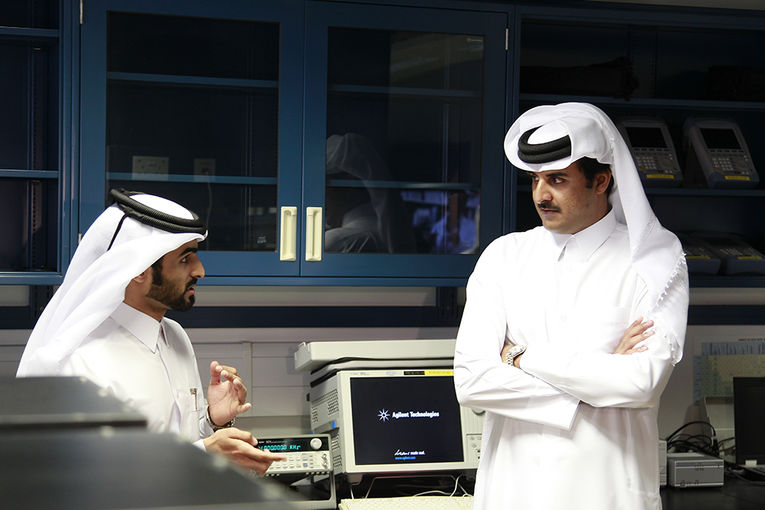 During his visit His Highness the Amir was also briefed on key environmental projects taking place at QF, such as the QF People Mover System, which is set to launch in 2016 and is a key example of QF's commitment to sustainability, through the use of ground-breaking technology to reduce car usage.
His Highness the Amir was accompanied by His Excellency Salah bin Ghanem Al Ali, Minister of Youth and Sports; Engineer Saad bin Sherida Al Kaabi, Managing Director of Qatar Petroleum; and Dr Hanan Al Kuwari, Managing Director at Hamad Medical Corporation.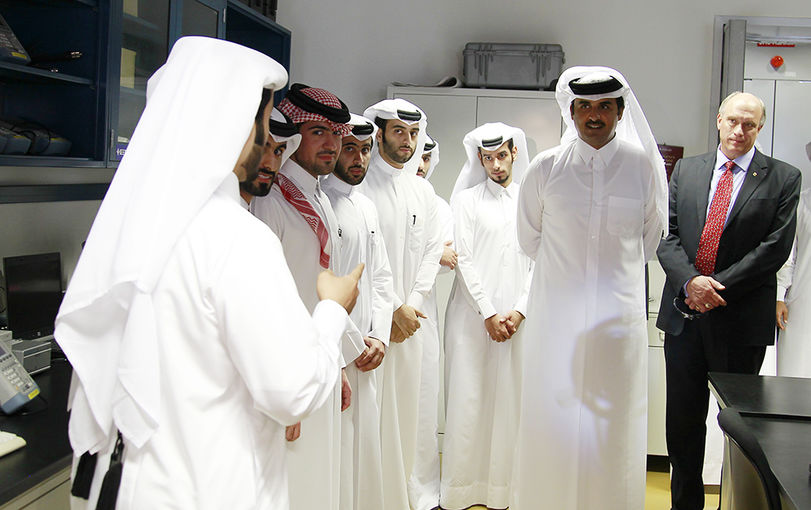 His Highness the Amir was received by Engineer Saad Ebrahim Al Muhannadi,President of Qatar Foundation; Mr Faisal Al Suwaidi, President of Research and Development; and members of QF 's Executive Administration.
The visit provided QF's leadership with the opportunity to highlight the Foundation's considerable achievements since its launch in 1995, in addition to its continuous efforts to realizing the vision of its founders by investing in people and unlocking human potential.
QF continues to place the interests of the Qatari people first through life-long learning programs, pioneering research and in keeping the country's cultural heritage and values alive.
In less than 20 years, QF has created a unique and diverse environment for learning and development which encompasses all educational levels, from six months old to post-graduate level. This holistic approach to education has put students on the right path to creating a culture of research and enquiry at all levels. It also creates a scientific research platform for key industries in Qatar that contribute to the nation's progress.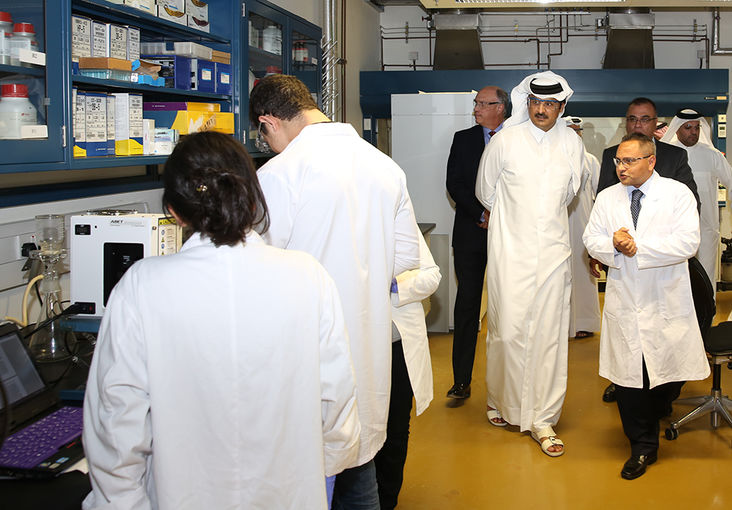 QF is working in partnership with comprehensive variety of national entities in all industries in order to realize its vision of unlocking human potential and creating a culture of innovation, while preserving Qatar's heritage, enriching its culture and strengthening its community.
QF has many cooperative agreements with government bodies such as the Supreme Council of Health; Supreme Education Council; Ministry of Defence; Ministry of Labour and Social Affairs and Ministry of Environment. These agreements are intended to realize Qatar Foundation's future educational goals in order to meet various challenges facing the country. In addition, Qatar Foundation endeavors to provide world-class graduates capable of creating a diversified economy in order to achieve the vision of the nation.