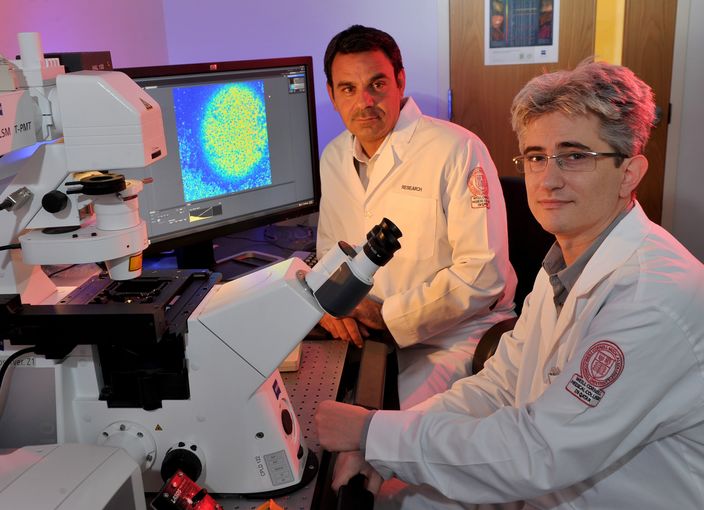 Researchers at Weill Cornell Medical College in Qatar (WCMC-Q) have made exciting new discoveries about the role of calcium in biological processes that underpin almost all aspects of life.
A research project conducted by Dr Raphael Courjaret, Research Associate in Physiology and Biophysics, and Dr Khaled Machaca, Associate Dean for Research, has shed new light on the complex role played by calcium ions (Ca2+), which at the cellular level serve as messengers, ferrying information to different parts of the cell to facilitate key biochemical processes such as fertilization, muscle contraction, transmission of nervous signals and blood clotting.
The research, which used advanced laser microscopy and electrophysiology techniques to reveal a novel pathway for calcium signaling at the intracellular level, has been published in the prestigious biomedical journal
Nature Communications
.
It has long been known that calcium plays a role as a messenger within cells, and that calcium ions can enter cells through membrane proteins known as channels; it is also well known that calcium is able to serve as an intracellular messenger by signaling locally in close proximity to these channels, as well as globally if the ions spread throughout the whole cell.
Dr Courjaret said: "What we were able to show was a level of sophistication in the way calcium ions are used to distribute information around the cell, which was not previously understood. We found mechanisms that allow calcium ions to travel within an intracellular structure called the endoplasmic reticulum, which acts as a communication hub to distribute Ca2+ to a distant effector."
The paper, entitled Mid-range Ca2+ signaling mediated by functional coupling between store-operated Ca2+ entry and IP3-dependent Ca2+ release, was published on 28 May 2014 and can be found at NATURE COMMUNICATIONS | 5:3916 | DOI: 10.1038/ncomms4916 |
www.nature.com/naturecommunications
.
For the full story, please
click here
.