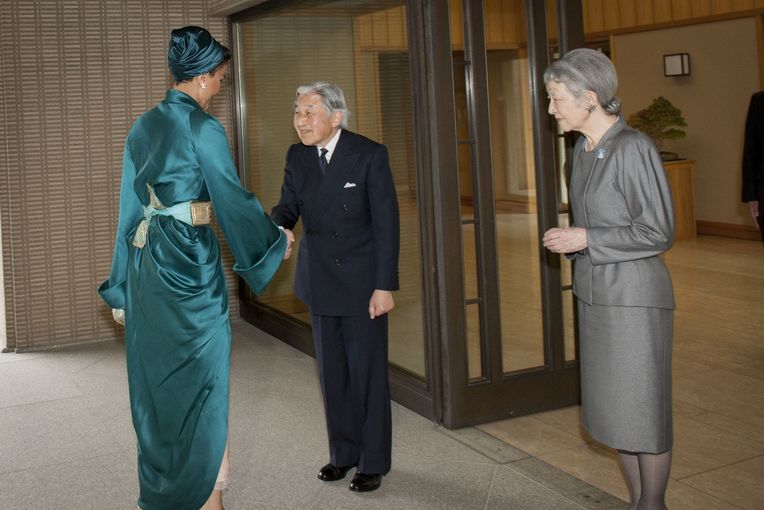 Her Highness Sheikha Moza bint Nasser, Chairperson of Qatar Foundation for Education, Science and Community Development (QF), conducted a five-day exploratory research visit to Japan between 20-25 April. Her Highness's visit was an opportunity to strengthen ties between the two countries in the fields of research and development, with a focus on computing, energy, environment and biomedical research.
Qatar and Japan have a solid and long-lasting relationship in the energy and gas sector, which has expanded over the last 40 years to include education, technology, culture and acts of humanitarianism.
Her Highness was accompanied by a high-level delegation from Qatar Foundation Research & Development (R&D), including President of QF R&D Mr Faisal AlSuwaidi; Executive Director Dr Dirar Khoury; Executive Director of the Qatar Computing Research Institute(QCRI), Mr Ahmed El Magarmid; Executive Director of Qatar Biomedical Research Institute (QBRI), Dr Hilal Lashuel; and Executive Director of Qatar Environment and Energy Research Institute (QEERI), Dr Mohammad Khaleel, to identify and advance collaboration between QF and a number of globally renowned research institutes in Japan.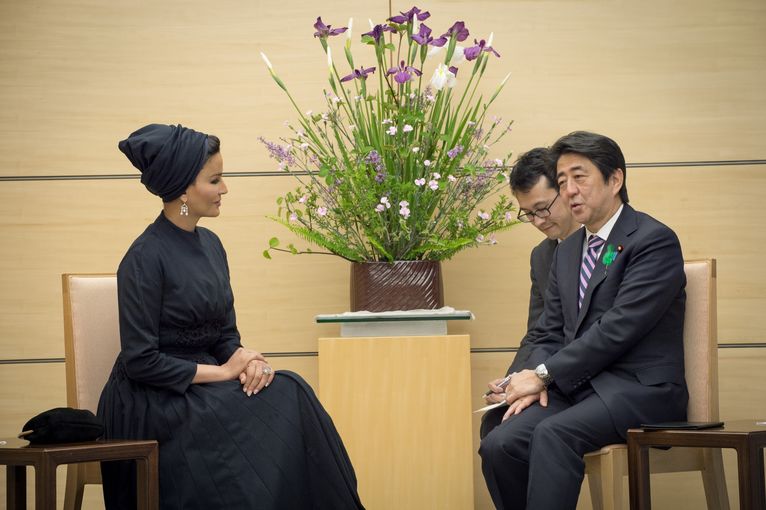 The areas of collaboration have been identified in line with the 'grand challenges' of Qatar's National Research Strategy, i.e. energy security, water security, cyber security, and health promotion.
Her Highness began the trip in Tokyo where she visited Sony headquarters to discuss the computing research landscape in both Qatar and Japan, the application of new technologies for social good and possible synergies between Japan's top technology institutes and the QCRI.
During the discussions, Her Highness said: "Our visit this week seeks to accelerate a new phase in the relationship between Qatar and Japan - one based on scientific collaborations that can help both our nations address some of the challenges we face in the 21st-century."
Her Highness also met with eight Qatari students currently studying in Japan, and heard about their motivations and experiences and encouraged them on their educational journey.
Also in Tokyo, Her Highness met with Their Majesties Emperor Akihito and His Consort Empress Michiko, where they discussed the flourishing relationship between their two countries. She also met with Prime Minister Shinzo Abe to discuss bilateral cooperation in the fields of education and culture as well as science and technology.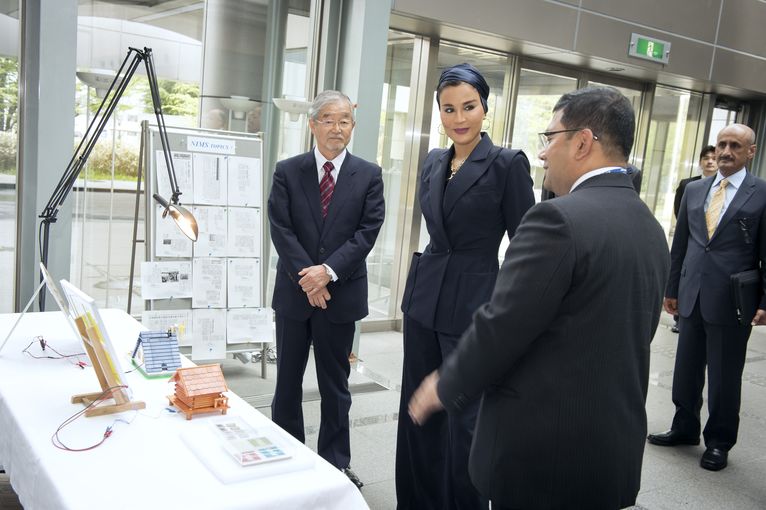 She then met with the Minister of Education, Culture, Sports, Science and Technology HE Mr Hakubun Shimomura, to discuss student exchanges, scholarships and research collaboration with regard to the priorities and 'grand challenges' outlined in the Qatar National Research Strategy.
In Tsukuba Science City, Her Highness led a QF R&D visit to the National Institute of Advanced Industrial Science and Technology (AIST) and the National Institute for Materials Science (NIMS).
During a roundtable discussion with the president and representatives of AIST, Her Highness said: "Qatar Foundation welcomes your insights and experiences of helping to build a sustainable industrial society, in particular with regard to water and energy security."
In Kyoto, Her Highness visited the Center for induced pluripotent stem (iPS) Cell Research and Application (CiRA) at Kyoto University, which was created with the mission of advancing cell research. Through collaborations with researchers in Japan and abroad, they have advanced technological development aimed at drug discovery and regenerative medicine (cell transplantation therapy).
Her Highness met with Dr Shinya Yamanaka, Director of CiRA and Professor at Kyoto University, who won the Nobel Prize for Physiology or Medicine in 2012 for his work on stem cells. Dr Yamanaka previously met Her Highness when he was a keynote speaker at the 2013 Annual Research Conference in Doha.
While in Kyoto, Her Highness embarked on a visit to the Kyoto State Guest House, where she watched a Japanese tea ceremony and 'Noh', a classical Japanese musical drama.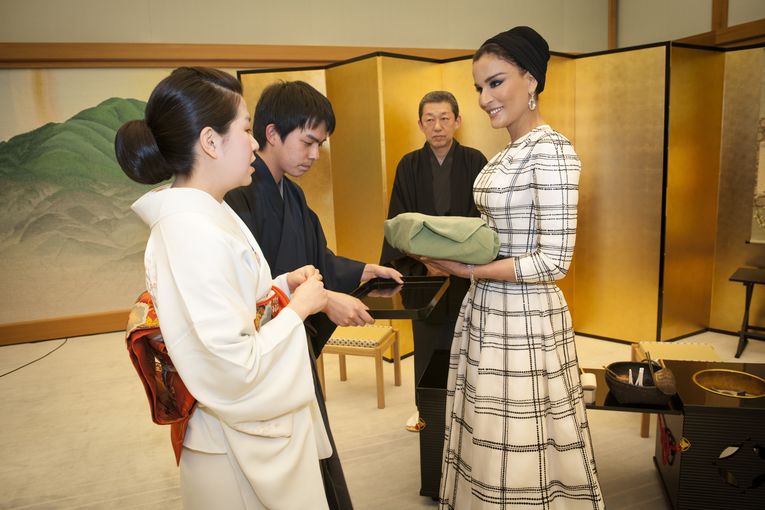 Her Highness said during the visit: "Our partnership can be symbolised by the Qatari-Japanese Friendship Fund. The Fund was established by His Highness the Father Emir, Sheikh Hamad Bin Khalifa Al-Thani in the wake of the March 2011 devastating earthquake and tsunami as an expression of our deep empathy.
"Today, Qatar is pleased that this Fund has supported thousands of victims across the most affected areas through a range of sustainable projects in education, healthcare and fisheries. We hope that its impact will continue to help many more in their journeys to recovery," she added.
While in the city of Kobe, Her Highness held a meeting with the mayor, Mr Kizo Hisamoto at the Kobe Biomedical Innovation Cluster and held discussions on biomedical innovation. Her Highness then went on a site visit to the Japanese Institute of Physical and Chemical Research, RIKEN, which is Japan's largest comprehensive research institution and fosters innovative programmes and interdisciplinary collaborations in a variety of pioneering projects.
The final stop of the visit was to Osaka University Hospitalwhere Her Highness and the President of Osaka University, Dr Toshio Hirano, discussed student exchange and potential collaboration between Qatar and the university.
While there, Her Highness paid a visit to a Qatari patient currently undergoing innovative stem cell treatment at the hospital.
During Her Highness's visit, a number of Memorandums of Understanding (MoU) were signed between Qatar Foundation and Japan entities aiming to further develop research collaboration and people-to-people exchanges.