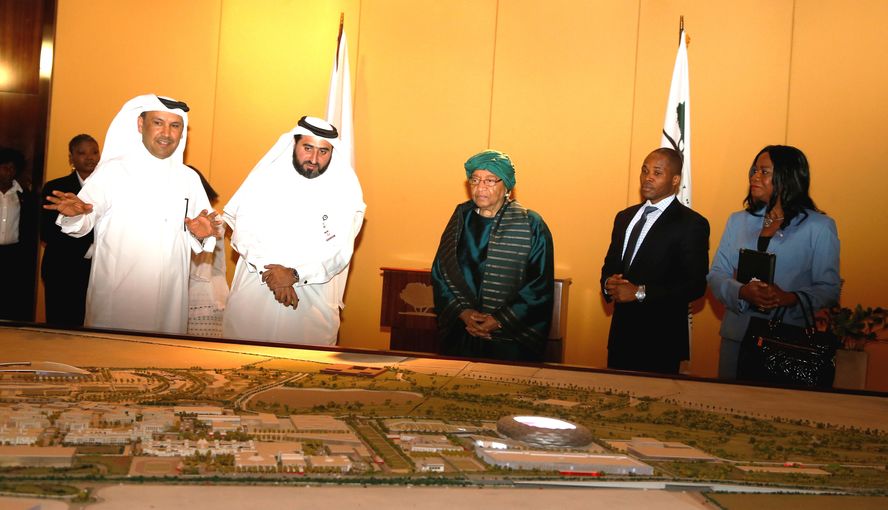 Her Highness Sheikha Moza bint Nasser, the Chairperson of Qatar Foundation met the President of Liberia, Ellen Johnson Sirleaf, at the Qatar Foundation headquarters on Wednesday, 21 May 2014.
Talks dealt with topics of mutual concern particularly those related to health and education.
During her state visit to Qatar, President Sirleaf was welcomed to the Qatar Foundation Visitor's Centre by Engineer Saad Al Muhannadi, President of Qatar Foundation, and Engineer Jassim Telefat, Group Executive Director of Qatar Foundation Capital Projects and Facilities Management.
The President and her delegation were given an introduction to the vision and mission of Qatar Foundation and its many educational initiatives, community development plans and scientific research programs.
Commenting on the great strides Qatar Foundation continues to make in its support of the nation's journey towards a knowledge economy, President Sirleaf said: "It is a great pleasure to be here in Qatar to witness the great innovation of Qatar Foundation and the subsequent transformation underway here at Education City, which is clearly a place where people from all over the world gather to enjoy a thriving learning environment."
Expressing her ambition to further develop Liberia's education system, President Sirleaf added: "I hope that our students and teachers one day have an opportunity to come here and take part in the wonderful educational opportunities available in Qatar. I also look forward to enhancing the Liberian educational system by incorporating some of what we have seen at Qatar Foundation."