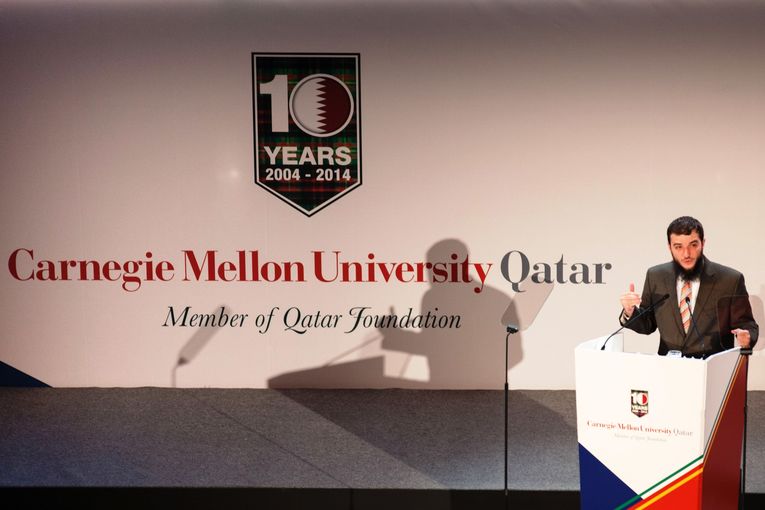 Her Highness Sheikha Moza bint Nasser, Chairperson of Qatar Foundation, attended Carnegie Mellon University in Qatar's 10th anniversary celebrations recently, alongside leadership from Carnegie Mellon, Qatar Foundation, and members of the university and community.
The ceremony at the Carnegie Mellon Qatar campus began with a performance from a lone bagpiper, reflecting the Scottish heritage of the university's founder, philanthropist and steel magnate Andrew Carnegie.
Throughout the evening, videos and speeches featuring alumni and students transported the audience from Andrew Carnegie's humble beginnings in Scotland to Pittsburgh, Pennsylvania, where he established Carnegie Mellon University in 1900. The evening also reflected on the growth of Carnegie Mellon's branch campus in Qatar and highlighted milestone achievements throughout the last decade.
As part of the landmark celebrations, Sheikha Moza bint Nasser also toured the exclusive exhibition'Travelling Through Arts and Times,' showcasing the richness of Qatari and Islamic culture, heritage and civilization through more than 160 rare artifacts from Sheikh Faisal bin Qassim Al Thani's private collection.
As a global leader in education, Carnegie Mellon is known for its creativity, collaboration across disciplines and top programs in business, technology and the arts. The university has been home to some of the world's most important thinkers, among them 19 Nobel Laureates and 11 Turing Award winners.
Engineer Saad Al Muhannadi, president of Qatar Foundation, said: "Carnegie Mellon Qatar's success as a global branch campus at the heart of Education City can be attributed to the institution's ability to balance between maintaining the home campus' high standards and ethos while meeting the needs of the local community. In line with Qatar National Vision 2030, Carnegie Mellon Qatar continues to be an integral part of Qatar Foundation and the country's capacity building and development as a whole."
During the official ceremony, Mark Kamlet, Carnegie Mellon provost and executive vice president, highlighted key accomplishments in Qatar, including the growth of the student body from 41 to 400 students with a Qatari enrollment of almost 40 percent.
Almost 300 young men and women have graduated from the university's branch campus and are now playing integral roles in the knowledge-creation community in Qatar and across the world. More than 100 alumni returned to campus for the 10-year celebration.
The evening's 10-year anniversary entertainment also included performances from a traditional Arabic oud player and Carnegie Mellon's Matisse Quartet.
For the full story, please
click here
.