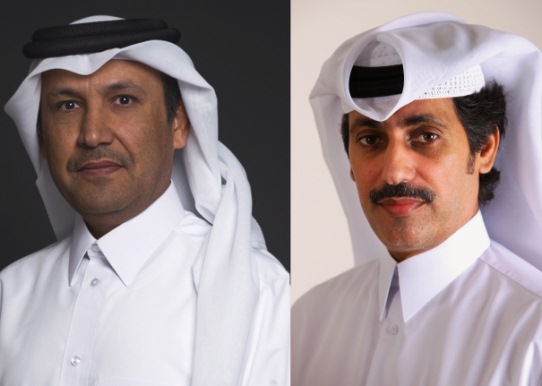 Her Highness Sheikha Moza bint Nasser, Chairperson of Qatar Foundation for Education, Science and Community Development, has announced the appointment of Engineer Saad Al Muhannadi as its new President, with Mr Rashid Al-Naimi becoming Chief Executive Officer of Qatar Foundation Investments, as the organization moves forward in its mission to unlock human potential.
Paying tribute, Her Highness Sheikha Moza said, "In Engineer Saad Al Muhannadi we could not wish for a more capable President to continue advancing our mission. As one of the founding members of Qatar Foundation, he is steeped in the esteemed traditions of our organization.
"It is now 18 years since Qatar Foundation was founded. From humble beginnings it has grown to become the world-class institution that we see today, spearheading the nation's efforts on our journey towards a knowledge economy.
"Engineer Al Muhannadi has been with us throughout this incredible journey, leading the ongoing development of the organization's infrastructure, and I have the utmost confidence in his ability to provide the necessary leadership as Qatar Foundation continues its exciting mission to unlock human potential. I would like to extend my very best wishes to our new President in his new role."
"At the same time, I am delighted that Mr Rashid Al-Naimi will be taking up the key role of CEO of Qatar Foundation Investments. Throughout his career, including in his most recent position as Qatar Foundation's Vice President of Administration, he has demonstrated that he is a natural leader. I have every confidence that he will be a great success in his new position, and I wish him the very best."
Engineer Al Muhannadi has been an integral part of Qatar Foundation's growth since its founding in 1995, and a key member of its Board of Trustees. As Vice President of Capital Projects and Facilities Management since 2005, he has been responsible for the planning, design, construction and maintenance of all Qatar Foundation buildings and supporting infrastructure at its unique 15 million square meter campus.
The site has the biggest collection of LEED (Leadership in Energy and Environmental Design) certified buildings in the Middle East, demonstrating Engineer Al Muhannadi's determination to ensure that environmental concerns are addressed at the design stage of every Qatar Foundation construction. As well as serving on the Foundation's Board of Trustees, Engineer Al Muhannadi is also a founding member of the Board of Directors at Msheireb Properties.
"I am humbled, yet proud, to have been asked to serve as President of Qatar Foundation," Engineer Al Muhannadi said upon his appointment. "The organization is dear to my heart, having been closely involved in its development since its inception. I am most grateful for the opportunity to continue this journey as we seek to implement Qatar's National Vision 2030.
"Qatar Foundation has developed into a unique organization, and all of my colleagues have played an important role in this success. Their strategic expertise will be vital as we continue our plans for expansion.
"And, just as Qatar Foundation's success has come about through collective hard work, so the opportunities afforded by the organization should be available for the collective benefit of the local population. Qatar Foundation was built by Qatar, it is sustained by Qatar, and it belongs to the people of Qatar, regardless of their background and occupation. Qatar Foundation has an extremely bright future, and I am delighted to be a part of it."
Mr Rashid Al-Naimi has demonstrated a flair for strategic implementation and innovation throughout his time at Qatar Foundation, while helping to foster a culture of quality and excellence throughout the organization. In his new role as Chief Executive Officer of Qatar Foundation Investments, Mr Al-Naimi's strategic expertise will be brought to the fore as he oversees Qatar Foundation Endowment, Qatar Foundation Investments, and the organization's other joint ventures and initiatives.
"I am tremendously honored to be asked to take on this new position," said Mr Al Naimi. "The time I have spent as Vice President of Administration has provided me with a valuable insight into the huge array of talent, expertise and potential that Qatar Foundation possesses. As the organization continues to refine its strategic objectives I am very much looking forward to the challenge of serving as CEO of Qatar Foundation investments."
Outgoing President Dr Fathy Saoud has overseen considerable development at Qatar Foundation as it has become a globally respected institution. Paying tribute, Engineer Al Muhannadi said, "Dr Saoud's leadership has been inspirational to the entire Qatar Foundation community, and we wish him all the very best in his future endeavors," a sentiment echoed by Mr Al-Naimi.