HEC Paris, one of the world's leading providers of executive education, and Teach For Qatar, a local Non-Governmental Organization (NGO) founded by Her Excellency Sheikha Hind bint Hamad Al-Thani to recruit and train passionate teachers in Qatar's government schools, have collaborated to offer a special executive custom-designed program. The program focuses on developing the leadership qualities of high-potential graduates and professionals.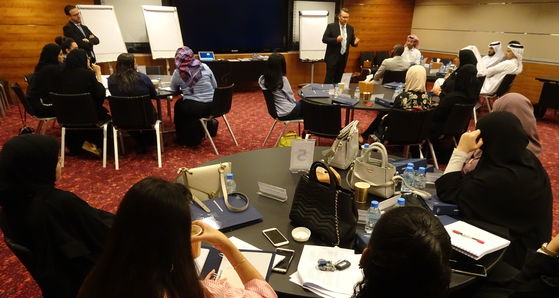 The 'Leading Learning Journey' is a unique program, immersive process of learning, co-designed specifically for more than 30 participants including Teach For Qatar stakeholders, fellows, and alumni. HEC Paris and Teach For Qatar share the goal to develop quality education in Qatar by empowering talent and building future leaders.Teach For Qatar fellows are hand-picked through a rigorous selection process and are trained for seven weeks at the Summer Institute and throughout their two-year journey to teach in government schools in Qatar.
As part of HEC Paris' and Teach For Qatar's commitment to quality education in Qatar, both organizations have collaborated to design and develop this unique program to equip participants with transferable soft skills that will help them positively impact education in Qatar.
"Teach For Qatar is committed to supporting our fellows and alumni fulfill its vision for a nation of excellence in which every student is driven to achieve. We are pleased to partner with HEC Paris to offer our fellows and stakeholders this unique opportunity to become transformational leaders who go on to drive change in Qatar's educational system," said Nasser Al Jaber, Teach For Qatar's CEO.
"It is an honor and real privilege to help form future leaders in education in Qatar. The program we co-designed and deliver with Teach For Qatar will help their fellows grow into becoming effective leaders who can ultimately drive change in Qatar's education sector," said Professor Wolfgang Amman, Program Director.
The 'Leadership Learning Journey' program draws on the experience and expertise of HEC Paris' world-renowned faculty. The program consists of three two-day core modules: Next Level Leadership; Effective Change Management; Final Leadership Bootcamp.
The program commenced in March with the first module 'Next Level Leadership' presented by Dr. Randy White, the Academic Coordinator of Leadership courses for the HEC Paris Executive MBA. The module enabled each participant to explore and experience several different leadership approaches.
The second module, 'Effective Change Management', led by Dr. Roger Hallowell in April, was an in-depth session on change management and how leaders must adapt to new ways of working, and lead others through that change.
The program will conclude with a 'Final Learning Bootcamp' in May directed by Professor White. The module will encourage participants to assess their progress and analyze changes of their leadership approach.
To read more, click
here
.