HEC Paris, one of the world's leading providers of Executive Education, in partnership with Oman's leading Human Capital solutions provider Takatuf, has organized two Masterclasses on 'Digitalization & Disruption' and 'The Leadership of Change'. These special sessions aimed to emphasize the benefits of Executive Education.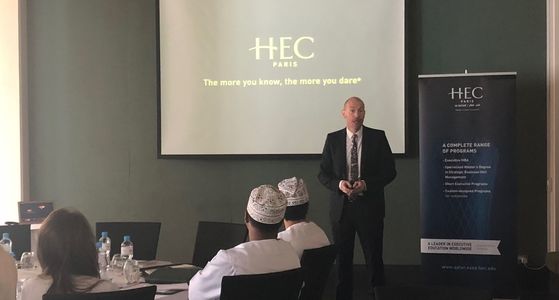 The events also highlighted the strong bond and close collaboration between the two entities. HEC Paris and Takatuf have been collaborating on the successful 'Emerging Leaders Program' (ELP) since 2016. The ELP is a unique, custom executive education program that capitalizes on Takatuf's Human Capital expertise and HEC Paris' internationally recognized reputation in management programs to offer a powerful learning experience to leaders from the Sultanate's diverse sectors.
HEC Paris Professor Roger Hallowell, a leading Professor in Strategy, Business Policy and Leadership, conducted the two half-day Masterclasses at the Chedi Muscat Hotel. The 40-plus participants consisted of representatives from the French Embassy in Oman, HR Managers, CEOs and alumni from a host of industries including finance, oil and gas, aviation, construction and engineering.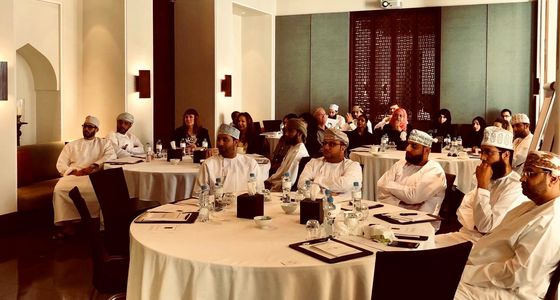 In the 'Digitalization and Disruption' Masterclass, Professor Hallowell examined best practices within the industry and how both digitalization and disruption are applicable in the Gulf region. In the second Masterclass, 'The Leadership of Change', Professor Hallowell highlighted organizational change as the greatest challenge in the 21st century within the business sector. He led exercises on how leaders can determine which combinations of approaches to change are most relevant for their organization.
Dr. Nils Plambeck, Dean and CEO, HEC Paris in Qatar, said: "As a world leader in Executive Education, and through our partnership with Qatar Foundation, we deliver high-quality and impactful executive training programs that help develop leaders in the region and have a positive outcome for their organizations."
"Through close collaboration with Takatuf, the 'Emerging Leaders Program' has proven to be very successful.  We will offer it for the third time in the coming months. Our Masterclasses, under the guidance and expertise of Professor Hallowell, will further increase our reach to engage with more senior managers from organizations across a range of sectors."
HEC Paris is planning further Masterclass sessions as it strives to expand its geographical reach in 2018.