HEC Paris hosted a special 'Meet the Alumni' event that gave professionals seeking executive education a unique opportunity to interact with a panel of 8 graduates and current participants of the Executive MBA (EMBA) program from the 2014 to 2018 cohorts.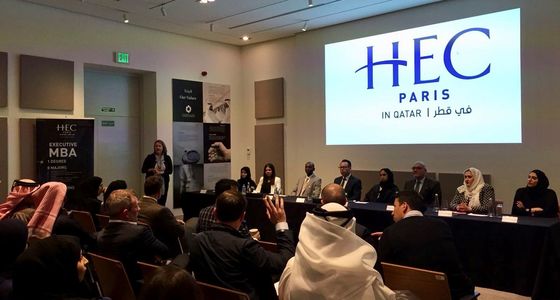 The engaging session was held at the Msheireb Enrichment Centre. HEC Paris alumni shared their feedback about their professional and personal experience while on the program and provided attendees with insights into how the EMBA degree gave them a vital edge in today's competitive employment market. Speakers also outlined why they chose HEC Paris for their executive education and the EMBA, the challenges of going back to school and juggling studies with their daily work routine, and offered advice to prospective participants. Speakers from the current cohort described their experience of the program so far and how they have been able to apply the knowledge and skills developed at each step of their studies into real-life situations in their workplace.
The alumni included Mr. Obaid Rahman from Ooredoo Global Services, Ms. Hend Zainal, Communications Consultant at Qatar Foundation, Mr. David Smith, Regional Infrastructure Director at Turner and Townsend, Maryam Al Mansoori, Chief Officer Corporate Planning and Support, Msheireb Properties, and Reham Sabri Thawabi, AGM Head of Branch Network, Commercial Bank.
The EMBA 2018 program participants who addressed the audience included Ms. Abeer Al Hammadi, IP Commercialization Manager, Qatar Foundation Research and Development, Donovan Waite, Senior Crude Oil Portfolio Advisor, Qatar Petroleum, and Ms. Jennifer Yakub.
The admissions team was also present at the event to answer questions on the enrolment process for HEC Paris executive education programs.
HEC Paris alumni benefit from one of the largest alumni networks in the world, with more than 57,000 members across 132 countries, providing members with a unique opportunity to network and share experiences with fellow graduates from around the world. HEC Paris is ranked #3 by the Times Higher Education Alma Mater Index (Global Executives) 2017, which ranks universities according to how many qualifications they have awarded to chief executives of members of Fortune magazine's Fortune Global 500.