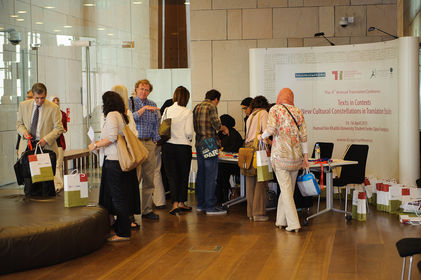 Hamad bin Khalifa University's Translation and Interpreting Institute (TII) has launched a call for papers for the Fifth Annual Translation Conference.
TII in partnership with Bloomsbury Qatar Foundation Publishing will host the Fifth Annual Translation Conference on 13-15 April 2014 at the Qatar National Convention Centre (QNCC).
Dr Amal Al Malki, Executive Director of the Translation and Interpreting Institute describes the conference as a great networking opportunity that poses as a bridge between academia and the market promoting quality and conscientious translation.
'Global Translation Flows', the Fifth Annual Translation Conference, seeks to explore the complexities of intercultural communication and translation both in and beyond the region. On one hand, the flow between cultures opens up the possibility of exchange and new knowledge. On the other, it has been associated with colonization and cultural imperialism.
Possible paper topics include the study of translation as it relates to migration and communication networks:
-the construction of narrative in historical and current events, or vis-à-vis the concept of citizenship
-mass media, social media, and citizen media
-the Arab Spring; transnational communities and institutions (GCC, EU, MERCOSUR, inter alia); communication in and between religious communities
-conflict
-global literary networks
-women's networks and gender
-globalization and counter models of globalization, past and present
-new intercultural connections forged by emerging transcontinental migrational flows
-difference and otherness in translation
The deadline for submission of proposals is 15 January 2014. Submissions (in Arabic or English) can be completed online by following the link http://www.tii.qa/conference.
All applicants should have an institutional affiliation, contact information (including email) and an abstract of 200 to 250 words.
Accepted papers will be allocated 30 minutes in the conference's program, which will include 15-20 minutes for presentation and 10-15 minutes for discussion.
For the full story, please
click here
.