Qatar Biomedical Research Institute (QBRI), part of Hamad Bin Khalifa University (HBKU), today signed a memorandum of understanding (MoU) with the Shafallah Center, a non-profit center dedicated to children with special needs. The agreement will pave the way for the two partners to undertake joint research activities, foster direct contact between specialists, as well as facilitate the use of facilities and equipment for research purposes.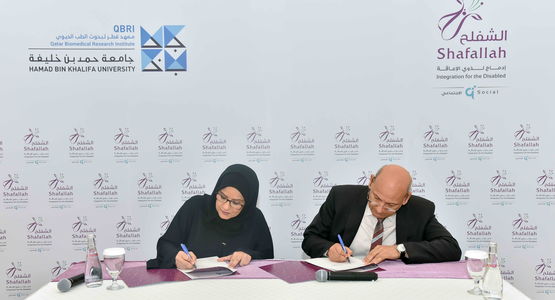 The agreement was signed by Ms. Amal Abdullatif Al-Mannai, acting executive director of the Shafallah Center, and Dr. Omar El-Agnaf, acting executive director of QBRI, in the presence of more than 20 representatives at the Shafallah Center.
QBRI and the Shafallah Center are united in their aspirations to improve the quality of healthcare services in Qatar via the prevention, diagnosis, and treatment of disease and illness. Dr. Omar El Agnaf said: "Through itscooperation with the Shafallah Center, QBRI furthers its interests in the field of biomedical and genetic research in Qatar, especially neurodevelopmental disorders such as autism and epilepsy. This MoU means we will be able to leverage on the expertise of our partners to tap into areas of research that are of mutual benefit to us, the nation, and the region as a whole."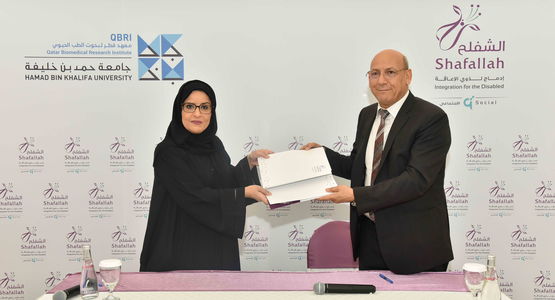 Describing the agreement as a means to strengthen the bonds of cooperation with the University, benefit from scholarly experts and specialists as well as tap into research insights on disabilities, Ms. Amal Al Mannai, acting executive director at Shafallah Center said: "We are delighted to sign the MoU between Shafallah Center and HBKU to together unlock new scales of achievements in the areas of academic, scientific, research, training, development, and health services."
Through this agreement, the two parties agree to encourage direct contact and cooperation between their staff and researchers. Additionally, QBRI and the Shafallah Center will share knowledge and expertise, as well as participate in the development of collaborative biomedical research projects with mutual consent.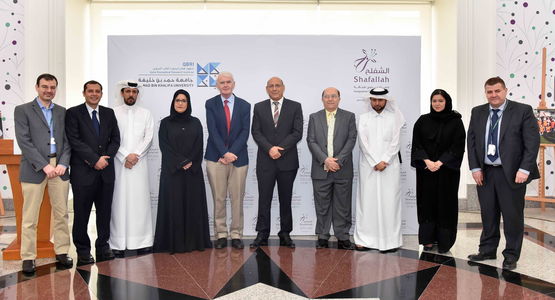 Through the MoU, HBKU and the Shafallah Center may undertake joint research activities and publication projects; exchange invitations for researchers to participate in seminars, conferences or workshops on topics of interest; and use QBRI's Institutional Review Board to review collaborative research projects undertaken by Shafallah Center. As per standard practice, each collaboration under this MoU is to be agreed upon on a further case-by-case basis.
QBRI's newest MoU comes as the latest agreement in a series of collaborative efforts undertaken by the research institute. In line with HBKU's overarching aim of fostering effective partnerships, QBRI works with a multitude of national and international stakeholders to address global health concerns.