Faculty members at Hamad Bin Khalifa University's (HBKU) College of Science and Engineering (CSE) are conducting innovative research to create a prototype in support of Li-Fi technology – a scientific breakthrough that utilizes the abundance of light to transmit data between different devices.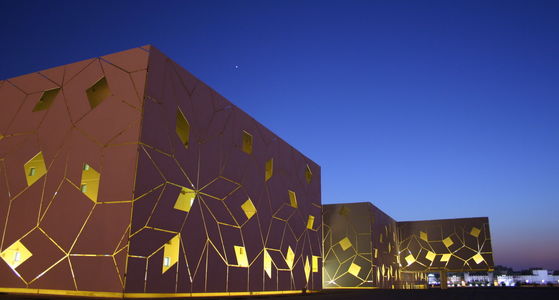 Currently under development, Li-Fi technology serves similar purposes to the popular Wi-Fi technology, but works by converting light intensity into binary bits that are transmitted at high-speed rates and can be understood by electronic devices, including mobile phone cameras.
Although Li-Fi technology is considered by many to be secure with minimal possibilities of disruption, CSE's faculty are working towards a prototype that ensures continuity and security of data communication. Their research project, titled Relay-assisted Visible Light Communication, has been made possible through a Qatar Foundation research grant.
CSE's proposed prototype will use multiple nodes such that, if one point of reception is blocked, light may be automatically rerouted to another node, thereby ensuring constant and direct transmission at all times.
The applications of Li-Fi are vast and extend to effective and remote traffic management, where the technology may be utilized to facilitate a 'wireless conversation' between two vehicles with the aim of preventing collisions. Li-Fi technology also is considered to be integral to the operation of smart homes and cities. In hospitals, Li-Fi technology becomes especially critical where the lives of patients may be contingent on seamless transmission of data. Lastly, the technology may be utilized to monitor underwater systems and examine gas pipes for any potential leaks, thereby evading catastrophic consequences.
Over the course of one year, Dr. Abdallah will be working closely with researchers at Texas A&M University at Qatar, as well as TUBITAK and Ozuegin University in Turkey, to submit the prototype for consideration. If successful, the project will move to the start-up phase.
HBKU's CSE offers multidisciplinary programs across a wide spectrum of fields and specialties. All of the college's programs focus on areas that have been identified as vital for national, regional, and international prosperity. Thirteen academic degrees are currently being offered under the college's three divisions, which are Life Sciences, Information and Computing Technology, and Sustainable Development.
CSE also works closely with national and international partners to drive groundbreaking research and benefit from mutual resources and expertise.
To stay up-to-date on CSE's latest research projects, events, and initiatives, visit
www.hbku.edu.qa/cse
To Read more, please click
here
.