Two of the world's top journals in the information science field have rated three papers by a scientist at the Qatar Computing Research Institute, part of Hamad Bin Khalifa University, as among the most influential in the decade they were published.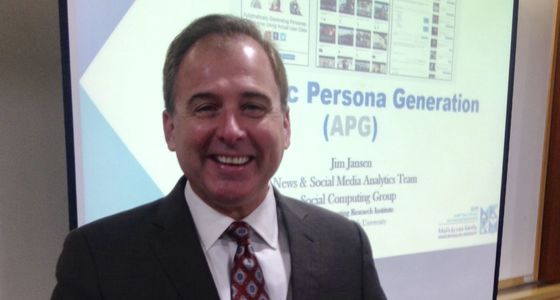 The papers were written by Dr. Jim Jansen, principal scientist in QCRI's Social Computing group, whose work focuses on identifying and analyzing trends in social media usage.
Based on citations from ScienceDirect and located by professionals from Elsevier, the journal Information Processing and Management recently ranked Dr. Jansen's "Real life, real users, and real needs: a study and analysis of user queries on the web" among the two top-cited papers in the 2000s decade.
The Journal of the Association for Information Science and Technology (JASIST) named his "Twitter power: tweets as electronic word of mouth" as among the top eight high-impact articles in the 2000s. It also rated his "The seventeen theoretical constructs of information searching and information retrieval" as among the top seven articles of the 2010s.
Dr. Jansen said "Real life, real users, and real needs" was one of the first log analyses of searchers using Web-search engines. "Twitter power" was one of the earliest investigations of Twitter usage. "The seventeen theoretical constructs" paper was the result of a nearly five-year investigation into the foundational concepts of search technology.
"It is rewarding to see these articles still impacting research today," he said.
Dr. Ahmed Elmagarmid, QCRI's founder and executive director, described Dr. Jansen as a "distinguished scientist."
"Getting a 10-year top ranking for a paper is very significant, but to get three is rare," Dr. Elmagarmid said.
Dr. Jansen has previously received multiple accolades including an ACM Research Award and six application development awards, along with other writing, publishing, research, teaching and leadership honors.