Hamad Bin Khalifa University Press launched the first of a series of three literary workshops on March 26th, 2017, as a part of its community outreach campaign to help promote local literature, literacy, discovery, scholarship and learning.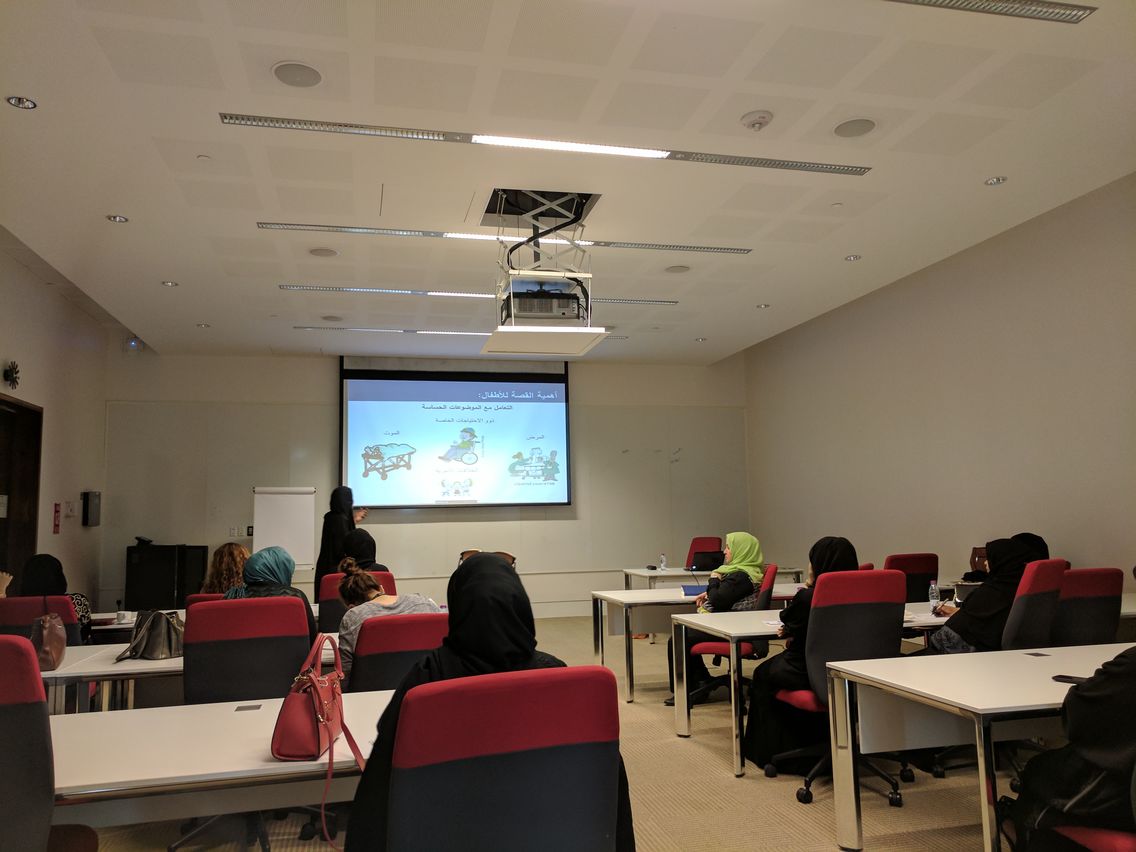 The workshop, which was led by the Arabic Editor at HBKU Press, Jameela Sultan Almass Aljassem, was held in the Student Center at Education Cityand included around teachers, librarians and academic coordinators from schools across Qatar. The theme, 'Tell me a Story', explored the art of storytelling and how to choose books for children that address sensitive issues and emotions, modelled after children's books published by HBKU Press.
"Books are published for two different reasons: to entertain and/or to inform," explains Aljassem. "It's easy for teachers and librarians and coordinators to choose books that will entertain their students; but how do you choose the right book to explain, for example, a death in the family? Or the immeasurable bonds of family?
"The goal of this workshop is to provide these administrators with the tools they need to be able to identify the power that literature has in informing and opening up a dialogue with children about sensitive issues."
According to Aljassem, the three criteria to consider when choosing literature that helps inform children include the age group, the content level and the physicality of the book.
In addition to these criteria, Aljassem went on to detail how the actual storytelling also affects a child's comprehension of and interest in a book. The idea is that the storyteller can use different tactics to engage a child, like changing their voice for different characters or varying volume levels, intonation, pitch and enthusiasm to reflect the mood of the story.
Among many HBKU Press children's titles, La ya Tarek's shows children that a mother's love has no bounds; Ana w Mah sensitively explores how to deal with the loss of a loved one; and Khayal Manal challenges the perception of children with disabilities. Each book is a shining example of how children's literature, when done right, can inform their audience about issues that are otherwise difficult to verbalize and comprehend for young children.
Majida Mustafa Al Waraq, an Early Childhood Educator from Al Israa Primary Independent School for Girls, attended this workshop in the hopes of learning how to deal with the various types of students in her class when it came to storytelling.
Many other attendees shared the same reasoning for attending the workshop. Al Waraq's colleague, Aisha al Mansouri, a second grade teacher of Arabic literature positively praised the outcome of the workshop on all different levels.
For the full story, please click
here
.